Take a Walk and Find Home
April 6, 2017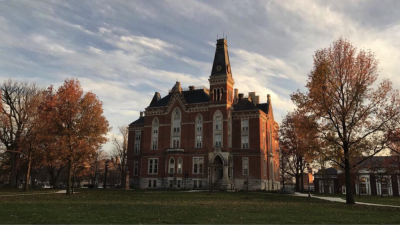 Around this time four years ago I was still having major commitment issues. Not in terms of relationships, but in my college search. I had spent the majority of senior year resisting college visits or stubbornly visiting them with my parents who were much more enthusiastic about the visits than me. This is not a wise stance to take, my friends. This was my future and I was fairly careless about the whole shebang. However, when it came time to make a decision I visited my top two schools right in a row--visiting one for a Friday and then spending the night at DePauw that Saturday. I told my friends that at school on Monday I would wear a shirt representing my choice. Nothing better than a weekend deadline.
Whatever track you've taken to get to this point--dragging your feet or running full speed--it's time to make a choice. If you're able to spend one more day at your top two choices (and I suggest narrowing it down to two) here is what I recommend. It worked for me and I'm just fine four years later.
Take a walk across campus by yourself. Not at night obviously, but during the day. When students are walking from class or later in the afternoon when students are rushing to extracurriculars like a cappella rehearsal or lacrosse practice. It seems so simple and yet it will tell you if you 1. feel comfortable walking across campus alone 2. Feel excited when pretending to be a student. To effectively pull this off make sure you are sans parents, school folder containing your schedule and food vouchers and high school spirit wear so students walking around will think you're one of them, thus giving you the full effect of being a regular student who just might be late to Intro to Psychology. It helps you envision yourself as a real student at the school without tour guides piping off another fun fact of school history. I know for me, my walk across DePauw's campus (granted it's a short walk) was the moment I wanted to be a student here. It made me excited and eager to live on campus. I don't know what specifically about the walk did the trick. All I know is that by the time I arrived at the admissions building, something felt right. I wanted to already be here. Simple yet effective. So if you've promised your friends or family that you will absolutely, for sure, make a decision soon (but you have no clue) then it's time to take a walk to find home.
Kate Emmert '17
comments powered by