Each day I wake up around 10:00 a.m., go for a run along Lake Michigan, and take a shower (like everyone should in the morning). Brushing my teeth is a necessity, so I make sure to get that done before heading over to lunch. Oh wait; I forgot to mention that meals are paid for by Teach For America. Pretty nice, huh? I get to sleep in. I get to enjoy the Chicago weather. And Teach For America pays for virtually...everything.
Surprise! While all of that is true, there are two "downfalls" in the eyes of my peers. One, since I'm a communication intern, my hours generally range from 1:00 p.m. to 12:00 a.m. or later. I say "in the eyes of my peers," because when most people hear the hours I work, they think it's terrible. And two, I work 6 days a week. Yes, you guessed it...I work Sundays. BUT, I absolutely love it! So, what exactly do I do when I'm in the office?
1. I manage all three social media accounts for the Teach For America Chicago Institute...meaning that I am constantly checking them for updates and any hateful comments. In addition, I create and form new social media campaigns for each week. Campaigns such as #CorpsMemberSpotlight, #WordsOfWisdom, and #FacesOfTFA. You can view these campaigns and see how they've grown on these three platforms: Twitter: @TFAChiInstitute, Instagram & Facebook: /TFAChiInstitute.
2. I manage, design, and update Teach For America's "TFANet" website containing information for over 600 corps members and staff. In addition to spreading my campaigns through social media, I also integrate them onto TFA's website. Last night, actually, releasing the first of my "Faces Of TFA" which are headshots of various corps members, edited to black and white, and stitched together in one picture frame.

3. My third large project is a newsletter entitled the "Chicago Weekly" that is sent out to all corps members and staff on each Sunday. I write this newsletter throughout the week and mass email it to over 600 corps members and staff. Below is what the header of the newsletter looks like, designed by my boss and written/edited by both my boss and I.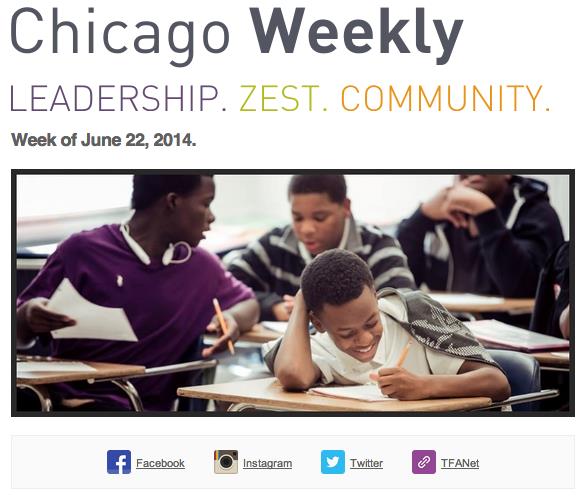 4. Recently, I have begun experimenting with Adobe Creative Suite and have managed to design a profile picture that is currently being used on the TFANet website. Below are some rough drafts of my work, but I work on new designs on the daily when I have free time. Each encompasses the three visions of the Chicago Institute, which are "leadership," "zest," and "community."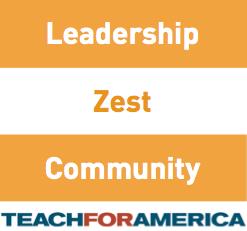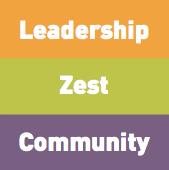 These four projects keep my very busy throughout the day, but only scratch the surface when it comes to my overall duties as an intern at Teach For America. From branding and signage, to tech support, I have many other "smaller" jobs that help fill in the gaps when I, otherwise, would be free to roam the city of Chicago. But, on a daily basis, that's really what I'm working on.
This internship has been nothing short of amazing thus far. Not only have I done exactly what I've wanted to do, but also I have learned more in these few weeks than ever before. In addition, my boss completely trusts me with all projects he assigns to me, and he really does allow me to "run with it." I am building professional skills now, which will help me immensely later.
Kevin Bugielski '16
@kevin_bugielski
@TFAChiInstitute
comments powered by

Disqus