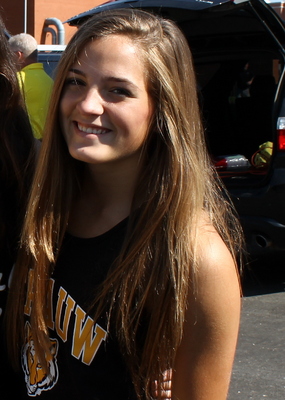 On an average day, I needed two cups of coffee brewing to get out of bed. Today was not an average day; I woke up before my alarm and scrambled to the car. Three hours later, the building that I had seen on nearly every DePauw mailing was less than a quarter of a mile away. The sight of East College consumed me. I had seen pictures but never did I once realize the intricate arch followed by brick walkways that lead to my future. Astonished by Anderson Street, I took my first steps of my college career through what are known as the Hoover Gates.
Due to being an athlete, I arrived to campus a few days early so I did not experience the typical "move in day". The "move in day" where people are shouting, cars are honking, and mothers are crying. The "move in day" that is portrayed in teen magazines that you read before you come to campus. My arrival was quiet and personal. No one was in sight to shout, my car may have been the only car to honk, but my mother did begin to cry. I saw the beauty of the campus as it anxiously awaited to fill its capacity with students eager to learn.
After I picked up my key and ID card, I unpacked 18 years of memories into my new bedroom. Students come to college and still have a room back home. I was not one of those students. My mom had recently moved into the city leaving my hometown, my house, and my bedroom behind. 403 was my bedroom, Humbert was my house, and Greencastle was my town. It was not temporary; it was permanent.
Rebeca Bagdocimo '17
comments powered by

Disqus