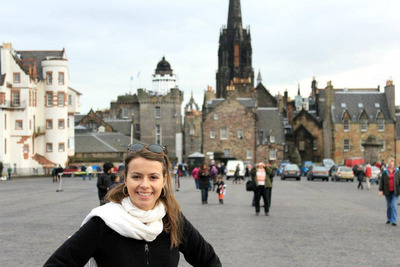 Looking back on my four years at DePauw, I am very thankful for the amazing experiences I had. Those experiences ranged from discovering academic passions to meeting lifelong friends. This next round of incoming students will have many opportunities intellectually, socially, and personally at DePauw. To the incoming class, DePauw can help you grow and it will change you in amazing ways. If you want the most out of your four years here, you must be able to not only recognize opportunities as they present themselves but also take advantage of them.
I may not be the first person telling you how to have the best DePauw experience, and I can promise I won't be the last. Class of 2018, get ready to have every upperclassman and alumni tell you everything that is great about DePauw over and over again. We all think we know how to do the DePauw experience. We all think our way was the best way. You should tackle DePauw your own way even if it means travelling a road (or curvy sidewalk) less taken.
While your experience should be uniquely yours, I have consulted with fellow recent graduates from the Class of 2014 to offer you a "bucket list" of DePauw experiences that you should simply tuck in your back pocket. People will typically tell you to take classes you never considered before or to spend a lot of time with the professor whom you find inspiring. Yes, do all of that. In my effort to create a bucket list, I tried to include tips that you might not hear from everyone else. So here are seven things that I challenge each new student to accomplish in the next four years!
Get Involved with a Student Organization…or 5
Organizations from the Debate Team to WGRE radio station offer amazing opportunities to really explore interests outside of the classroom. Whatever you do, attend the activities fair in the first week of school. Don't hold back putting your name down on every sign-up sheet. You can always unsubscribe from the club, but this is the easiest way to join awesome organizations like the Rock Climbing Club, Trap and Skeet, or even Cat Allies.

Do Community Service
This goes off of #1 a little bit, but get involved in a charitable activity. You can mentor Greencastle High School students through the college application process or you can volunteer at a shelter around the area. Realize you are blessed to attend a beautiful and renowned institution, so give a little of your time to help others. Community service can give you the little dose of humility every once in a while.
Apply For a Fellowship
DePauw does a phenomenal job with fellowships and prestigious scholarships from Teach for America to Fulbright. We also have an amazing staff that can help you every step of the process. Spend you summer in Oman learning Arabic or apply for a grant to continue your biochemistry research. You do not have to have a 4.0 GPA to get one of these fellowships. Even if you are turned down, the experience will help you grow as an individual, and you will learn more about yourself and your interests through that process than any job interview.
Order EVERYTHING on the Marvin's Menu
I would recommend doing this quite early in your DePauw career. Get some friends together, order anything that could possible sound yummy, and chow down. Everyone raves about the GCBs (and they are good), but Marvin's has some hidden gems among the menu. Plus, the next time you go, you'll know exactly what you want.
Camp out at the Nature Park
It's very inexpensive to rent camping equipment from the park staff at our Nature Park, and it makes for an awesome time. So consider spending your Friday night enjoying the great outdoors. This is the one I failed to do in my four years, and I regret it.
If you get asked on a date, go! If you like someone, ask her on a date!
This one is pretty straight forward. Our generation seems to be losing the art of dating, and the invitation to dinner or a movie is becoming farther and fewer in between. Therefore, if that boy from your class asks you to Casa Grande, go. Even if you don't know him that well, he may surprise you. If the guy worked up the courage to take you on a formal date, you should be flattered. Boys, we love being asked on dates. If you want to impress a girl, take her out (read: take her somewhere interesting like the Duck, Ashley Square Cinema, A1 bowling…hanging out in you dorm room with your roommate watching Blue Mountain State is not interesting).
Fold Someone's Laundry
There will come a time that you want to do laundry, and someone has yet to claim their clothes that are now cooling off in the dryer. Please don't throw them on the floor, this is rude. In fact, take the 7 minutes and fold their clothes. It's an easy act of kindness that will make their day. At a place like DePauw, those random acts of kindness are paid forward. You may find your clothes folded one day, too
Katie Vaky '14
comments powered by

Disqus