Posts occurring in November 2013
November 11, 2013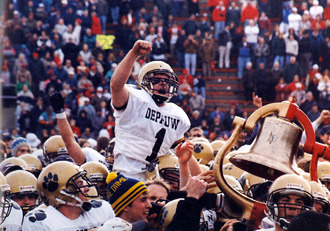 Steven J. Setchell '96
Associate Vice President for Alumni Engagement
In a fitting introduction to an intense and evenly played rivalry, my first Monon Bell game ended in a tie.
I was a freshman in 1992 when DePauw led 17-14 on a typically cold, muddy Monon Bell game day at Little Giant Stadium. Wabash drove to the DePauw nine yard line with nine seconds remaining. To the objection of DePauw fans, and as the story is told, many Wabash faithful as well, Coach Greg Carlson opted to send in his field goal unit rather than go for the win. Placekicker Alex Costa's 25-yard field goal bounced off the left upright and through the goal posts. Since the rivalry rules call for the team holding the Bell to retain possession in the event of a tie, the coveted trophy remained in Crawfordsville.
Continue Reading | &nbsp 0 Comments
---
November 4, 2013
Steven J. Setchell '96
Associate Vice President for Alumni Engagement
On Friday I shared by email the first of several steps to better connect DePauw alumni. More specifically, we expanded our online directory profiles to include business information relevant to helping all alumni, but especially young alumni and students, develop their careers on the highest trajectory.
The connection among our alumni is one of the many qualities that make DePauw distinctive. In some ways, the ability to connect is a fundamental attribute of an educated person. William Cronon's article, "Only Connect…," from The American Scholar offers keen insight on the goals of liberal education. He emphasizes the necessity of making connections among ideas and people in order to make sense of the world. Cronon writes, "A liberal education is about gaining the power and the wisdom, the generosity and the freedom to connect."
Continue Reading | &nbsp 0 Comments
---