Alumni Colleges an Opportunity to Encounter Great Professors
September 25, 2013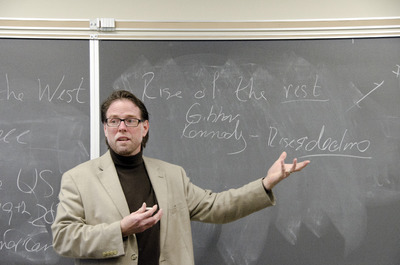 It is great to be a part of the DePauw University community. I've been on campus for only about three months now, but I am already continually impressed by the dedication of our faculty and staff to the university's educational mission. DePauw students are also highly engaged, and they have shared with me many great examples of the ways they are challenged and excited by their classes and the wide range of on and off-campus co-curricular opportunities made available by DePauw.
My primary aim as Vice President for Academic Affairs is to enhance further the remarkable quality of our outstanding academic enterprise. As you know from your own DePauw experiences, talented and dedicated teacher-scholars have inspired generations of students and continue to make a DePauw education distinctive. Guided by these faculty members, the DePauw campus is a lively place of ideas and conversation.
We have many efforts underway to build an even better DePauw. Among several efforts to enhance alumni engagement in the life and mission of DePauw, we will be offering you opportunities to participate directly in the intellectual experiences our students routinely enjoy.
As a member of the DePauw Alumni Association, we want you to continue to benefit from this stimulation and discourse. So, this year, a series of alumni colleges will allow you to go "back to school" by participating in faculty-led discussions occurring both in cities across the country and online. I invite you to participate in these alumni colleges and encounter again the extraordinary teachers who are at the heart of our academic enterprise.
The series begins October 14 with a Virtual Alumni College on "Humanitarian Intervention" led by Dr. Brett O'Bannon, chair of the Political Science Department. Visit our Alumni Colleges page to learn more about this webinar and other online and regional programs.
I am so pleased to be a part of the wonderful DePauw academic community. I look forward to opportunities to meet you in the weeks and months ahead.
---
Larry Stimpert
Vice President for Academic Affairs
comments powered by

Disqus