Bret Baier visit to DePauw
September 26, 2013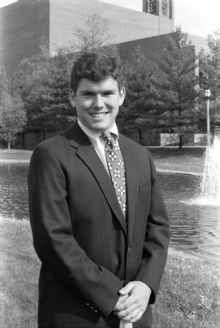 Fox News Channel's Bret Baier has emerged as one of the most respected anchors in television news. His "Special Report" nightly news hour is truly an in-depth account of the world's happenings. It is no wonder his show is one of cable news' highest rated shows, and gets more viewers than all competing cable news programs combined.
Like so many at our university, I look forward to Bret's Old Gold visit to his alma mater. We will have the opportunity to hear about the world news scene from an anchor who sees the news up close every day. I am delighted to have the honor of moderating the discussion portion of Bret's appearance. I will be eager to ask Bret about how he shapes the news agenda for his program each day. I also hope to get his analysis of news events that will be timely on Old Gold weekend. Maybe he will also share how he referees the active debates that are part of "the panel" during his broadcast each day. (And if any alum has a suggestion for a discussion topic I might raise with Bret, I would be glad to hear it.)
Bret has had a remarkable career trajectory. He started out working in local television, so he has an appreciation for a news agenda outside of the beltway. He joined Fox News Channel early in its history and has been part of major news developments ever since. At FNC, Bret has served as Atlanta bureau correspondent, National Security Correspondent, and chief White House Correspondent. Bret clearly brings the experience of a real journalist to his anchor chair.
Bret is keeping alive DePauw's impressive tradition of producing outstanding journalists. Legendary journalists like Eugene Pulliam, Casey Hogate and Barney Kilgore helped get that tradition going. John McWethy was a stellar correspondent at ABC for many years. Today, that tradition is carried on by outstanding journalists like Rob Johnson at CBS- 2 in Chicago, Jeremy Rogalski at KHOU-TV in Houston, Heather Unruh at WCVB-TV in Boston, Steve Hayes at the Weekly Standard and Fox News, and Aaron Luchetti at the Wall Street Journal, just to name a few.
This year's Old Gold promises to be a great one. I recall that Old Gold was quite the big deal when I was a student here in the 1970s. Campus was packed with alums enjoying the various activities and having conversations with fellow alums and current students. Parking was impossible. Old Gold this year will also be memorable. Bret Baier's presentation will surely be impressive. "Tiger Pride" will be on full display as legions of former football players return for the dedication of the football field in Coach Nick's honor. Add in the colorful trees on campus and the chats with old friends, and you know that DePauw will be the place to be when Old Gold arrives on October 12.
---
Jeff McCall '76
Professor of Communication and Theatre
comments powered by

Disqus