#DePauwConnects
March 3, 2014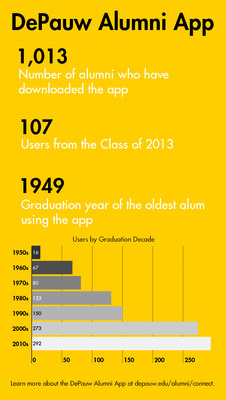 A key focus for DePauw this year is better connecting alumni to one another and to the University.
Our worldwide alumni network is a big part of the distinctive value of the DePauw experience. We want to make that network as accessible and useful as possible, particularly in helping young alumni and students launch their careers.
Last fall we expanded our online alumni directory to include professional data. For the first time, we also provided students with access to the directory to facilitate their seeking mentors, finding internships, and getting first jobs and acceptances to the best graduate schools.
As the latest step in these efforts, we recently rolled out the DePauw Alumni App powered by EverTrue. The app, which is available for download to iPhone, iPad and Android devices, enables alumni and students to access the alumni directory, map alumni by business address, and organize networks by major of study, company, and Greek living unit among other capabilities.
More information and app FAQ are available here. Similar to the online directory, alumni can contact our office at alumnioffice@depauw.edu or by completing this form to opt out of having their email address and business information displayed in the app.
More than 1,000 alumni are already using this new platform to connect and network. Later this week, we'll be giving the class of 2014 an early graduation gift with access to the app. We look forward to welcoming them to the ranks of the alumni association and into the global network of DePauw alumni.
---
Holly Enneking '08
Director of Alumni Engagement for Career and Communication Programs
comments powered by

Disqus