Looking Back on Opening Weekend
September 23, 2013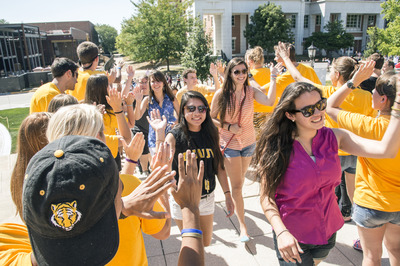 Opening Weekend, or "move-in weekend," is one of my favorite weekends of the year. Well, at least it has been ever since my first one, during which I was the one actually lugging my belongings into a (seemingly) small space alongside nervous parents, in tandem with a stranger (who become my best friend to this day), and on a blistering hot August day. Now, I'm relegated to the sidelines (i.e. the shade) and forced to observe (or envy) new DePauw students about to embark on an incredible journey of which they have not the slightest clue. I enjoyed this experience for three years as a first-year mentor, two years as a member of the DePauw staff, and one year – this year – as a GOLD (Graduate of the Last Decade) volunteer.
Along with almost 50 other young alumni, I ventured back to Greencastle to meet the DePauw class of 2017 this past August. In addition to connecting with the first-years in a small group setting, I was fortunate enough to be given the opportunity to address the new class and share a few words about my DePauw education and experience. My reflections and jokes were surprisingly well received, but a poignant moment for me came as I was exiting the Green Center of the Performing Arts.
Almost immediately upon exit I was met by a dozen students, first-years enjoying a rare hour of free time during orientation. They were curious to know more about some stories I told in my speech and eager to verify or dispel their assumptions about college and DePauw. (Side bar: I thought it wise to not dwell too long on DePauw's more colorful features like Monon Weekend… I mean, Little 5 deserved some attention, too.) A few things were readily apparent. These students were engaging, confident, boisterous. But, they were also curious and even inquisitive. What's more, the group, as a whole, conveyed that they were comfortable being uncomfortable; that is, they recognized the inherent awkwardness that accompanies Opening Weekend and seemed to embrace it. The encounter and conversation gave me a sense of pride and confidence – not only in the Office of Admission but also in the long term strength and character of the University.
One student has already emailed me and might visit my office over Fall Break to learn about my organization and about the nonprofit sector in general. I was excited to re-connect with alumni friends when I visited Opening Weekend but connecting with the first-years was special for me. If you have not done this or been to an Opening Weekend recently, plan a trip for next August. Do it. I told the students that "showing up" and enmeshing oneself in the events, class, parties, contests, debates, projects, etc. that form the distinctly social, community-rich liberal arts experience at DePauw was one of the most important lessons I learned as an undergrad. There was a lot happening on campus – and there still is. That is why we, as alumni, need to show up, too. There is a lot to be said for the DePauw alumni network, and I am one of its biggest champions. In fact, it's been the key factor in every job I've had post-graduation. That network begins forming Opening Weekend for 677 new students every year. Go back and be a part of it.
See you at the Duck.
---
Kyle Kerrigan '10
comments powered by

Disqus