Making the Most of Your Time and Talent
September 11, 2013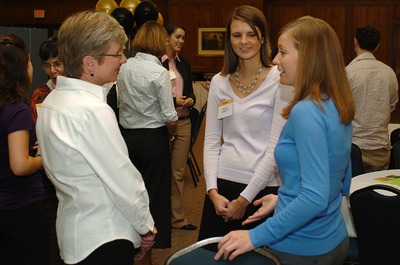 One of our key objectives for the year ahead is greatly expanding alumni volunteerism to help our students and strengthen DePauw. The time and talent of our alumni are huge assets, and ones we've underutilized.
We've redesigned our alumni home page with clear "calls to action" in areas where you can provide meaningful help. We know alumni are busy, but not all volunteer roles take significant time. In just a few minutes, you can recommend a talented prospective student you've met in your neighborhood and community. This is one of the most important things you can do to strengthen DePauw and maintain the tradition of great leaders and thinkers among our alumni ranks.
As DePauw renews efforts to more intentionally connect our liberal arts education to the best jobs and graduate schools, there are a number of ways alumni can help, including hosting internships and job shadowing opportunities or getting directly involved in mentoring students as they navigate the DePauw experience.
You can also help strengthen our regional programming and graduation class networks.
I invite you to get involved in DePauw and in making a difference in the lives of our students. Explore the volunteer opportunities described on our site and let us know how we can make the most of your time and talent.
---
Steven J. Setchell '96
Associate Vice President for Alumni Engagement
comments powered by

Disqus