Monon Bell
November 11, 2013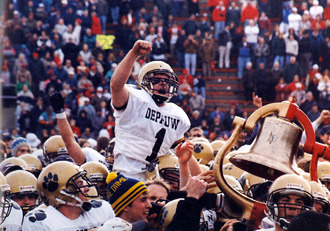 In a fitting introduction to an intense and evenly played rivalry, my first Monon Bell game ended in a tie.
I was a freshman in 1992 when DePauw led 17-14 on a typically cold, muddy Monon Bell game day at Little Giant Stadium. Wabash drove to the DePauw nine yard line with nine seconds remaining. To the objection of DePauw fans, and as the story is told, many Wabash faithful as well, Coach Greg Carlson opted to send in his field goal unit rather than go for the win. Placekicker Alex Costa's 25-yard field goal bounced off the left upright and through the goal posts. Since the rivalry rules call for the team holding the Bell to retain possession in the event of a tie, the coveted trophy remained in Crawfordsville.
Much like the 1992 game, the series has been remarkably even through 120 games. But the rivalry is also one of dominant win streaks. Following that tie in 1992, I did not see the Bell return to DePauw until 1996, the game following my graduation that year, when the Tigers prevailed 31-13 on the 400 passing yards of Bernie Haskins, more than 200 of them and 3 touchdowns going to 150-pound receiver Jamie Cunha (shown in the photo above). That 1996 game was the first of five consecutive DePauw wins. As the fate of the rivalry would have it, we're now in the midst of a streak in the opposite direction.
Like many DePauw and Wabash alumni, I've known both elation and heartbreak on November Saturdays at Blackstock and Little Giant stadiums. Those include two of the rivalry's most unlikely finishes: the unknown backup DePauw kicker Jordan Havercamp's 47-yard field goal to win as time expired in 2007 and Wabash's helmet-deflected Hail Mary to end DePauw's five-game Monon win streak in 2001. I've seen four perfect seasons ruined, with undefeated Wabash teams losing in 1998, 2007 and 2008 and DePauw in 2010.
Why are DePauw and Wabash students and alumni so passionate about a football game? Several reasons. The 27-mile distance between the schools lends itself to close friends and family members in the bleachers on opposite sides of the stadium if not competing against one another on the field. The series is evenly played with Wabash leading, 38-37-6 since the Monon Bell was introduced, and 57-53-9 overall. And in an age of big money and scandal marring collegiate athletics, this is a series maintained by true student-athletes, many of whom will go on to be prominent leaders and thinkers in communities and workplaces across the nation. All of these elements make for high drama and a great story.
Like me, DePauw and Wabash alumni all have their own versions of these stories. Tyler James (DePauw '12) brings many of the people and the narratives of the series all together in The Monon Bell Rivalry: Classic Clashes of DePauw vs. Wabash. It's a great rivalry primer for students and alumni of the two schools or for fans new to the series. You'll meet some of the iconic coaches: DePauw's Raymond Gaumey Neal, Tommy Mont, and Nick Mourouzis and Wabash's Stan Parrish, Greg Carlson, and Chris Creighton. You'll hear, in their own words, the stories of players like DePauw's Fred "the Toe" Williams, Alan Hill, and Jeremiah Marks and Wabash's Dave Knott, Pete Metzelaars, and Ryan Short. Pick up a copy and get ready for one of the nation's greatest college football rivalries.
See you at Blackstock this Saturday.
Go Tigers!
---
Still need the latest on this year's game? A few helpful links:
---
Steven J. Setchell '96
Associate Vice President for Alumni Engagement
comments powered by

Disqus