Tiger Pride at Old Gold
October 17, 2013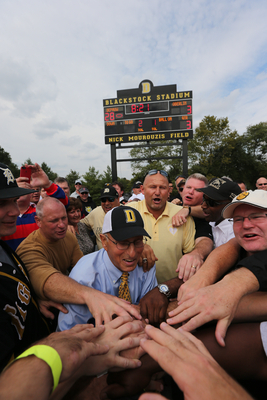 On behalf of everyone on campus, I want to express thanks to 411 alumni and friends who came back to make Old Gold 2013 so memorable for everyone involved. If you were on campus this past weekend, you couldn't miss the strong connection alumni maintain to this place and the power they have in making DePauw even greater.
In the weeks leading up to Old Gold, I truly enjoyed getting to know Coach Nick's captains from the classes of 1982 through 2004. The intensity of emotion and gratitude those guys continue to have for Nick is inspiring. In total, 40 captains returned to join other football alumni in honoring a legendary coach and beloved member of our community through the dedication of Mourouzis Field. As always, Nick didn't miss the opportunity to share his contagious enthusiasm. I'll admit I got a lump in my throat watching the Chief lead alumni in singing the school song under the new scoreboard bearing his name.
Of course, the weekend also marked the launch of the 21st Century Musician Initiative in the School of Music. Judson and Joyce Green ('74 '75), two of the most dedicated and gracious alumni we have at DePauw, are making an extraordinary gift to advance Dean McCoy's innovative vision for preparing future generations of musicians. I've enjoyed thinking back to Yo-Yo Ma's September 2011 visit for DePauw Discourse, which was made possible by the Greens in Dean McCoy's opening weeks on campus. The energy, creativity and entrepreneurial virtues of Yo-Yo Ma's citizen musicianship are easily seen in the School of Music's new vision. I can't wait to see these plans come to fruition for the entire campus community.
It was also great to have Bret Baier '92 back on campus. Bret received the Distinguished Alumni Achievement Award in media before joining in a candid and thoughtful conversation with Professor of Communication Jeff McCall '76. Bret also took a moment to chide his Sigma Chi brothers on campus for their choice in music. We'll see how the Sigs respond, but my guess is "Come on Eileen" will continue to be heard on sunny afternoons in the Locust Street neighborhood.
Last but not least, DePauw is fortunate to have an Alumni Association Board of Directors that embraces change and is hungry to make DePauw measurably better by mobilizing our alumni. Alumni Association President Brent St. John '89 is a tremendous partner to DePauw in our efforts to connect alumni, expand ways that alumni can help DePauw students, and create meaningful events like Old Gold.
DePauw needs its alumni now more than ever. We were out in full force this past weekend. I continue to be grateful for all that DePauw alumni do for this place. And I'm honored to be in this role.
---
Steven J. Setchell '96
Associate Vice President for Alumni Engagement
comments powered by

Disqus