Virtual Alumni College: The Life of Nelson Mandela
December 13, 2013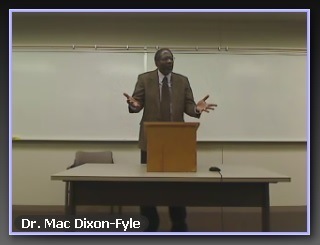 Last night sixty-two alumni heard Professor of History Dr. Mac Dixon-Fyle lead a far-ranging Virtual Alumni College conversation on Nelson Mandela and the struggle for human rights in South Africa.
Following Dr. Dixon-Fyle's email of last Friday calling on the campus community to reflect on Mandela's life, he graciously agreed to share with alumni some perspective from his life's work of research and teaching on African civilization and culture and, in particular, on ethnicity and conflict in South Africa.
Our participating alumni experienced a journey through South African history from European colonization to present day. The discussion spanned Mandela's evolution from birth into royalty, political activism, incarceration on Robben Island and, of course, his presidency and legacy.
Alumni responded with thoughtful comments and questions of their own. Dr. Bai Akridge '74 asked about the U.S. government's mixed treatment of Mandela. Former World Bank leader Judy Edstrom '70, who served in South Africa during the Mandela presidency, added her thoughts on the economic policies of the young democratic nation.
Discussion ensued with the questions of other DePauw faculty members attending live in the Mazanec Auditorium of the Julian Center, including Glen Kuecker, Nafhat Nasr, and John Schlotterbeck.
This was the fourth session in DePauw's new Virtual Alumni College, which aims to connect our alumni in regular discourse with DePauw's faculty. We're indebted not only to Mac Dixon-Fyle, but also to Chris White, Jonathan Nichols-Pethick, Mary Dixon and Brett O'Bannon, for making these discussions available to alumni.
While it isn't possible for all DePauw alumni to return to classrooms on campus, the Virtual Alumni College is a meaningful window into the kind of exploration and discovery our faculty and students pursue every day at DePauw.
I invite you to be part of these conversations in our upcoming sessions of the Virtual Alumni College.
---
Steven J. Setchell '96
Associate Vice President for Alumni Engagement
comments powered by

Disqus