DePauw Tigers Give Back - John '99 and Susan Bender Price '99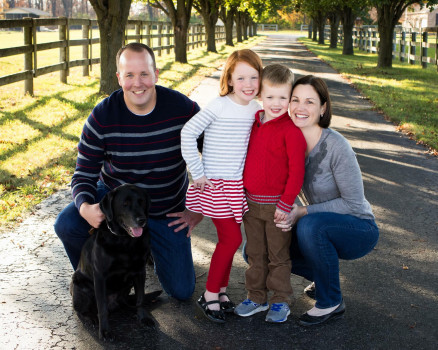 What has become known as the DePauw experience has evolved in a culture of gratitude. Through philanthropy and volunteerism, alumni and friends like John and Susan Bender Price help make DePauw excellent and accessible for students from all walks of life.
In addition to excelling as history majors at DePauw, Susan and John also exceled outside of the classroom. John served as president of his fraternity and Susan was a standout athlete on the University's women's basketball team in the late '90s. Their great memories of DePauw inspired John and Susan to get involved with an initiative to create the Kris Huffman Endowed Fund for Women's Basketball Travel.
"Intercollegiate athletics at DePauw allows you to have the best of both worlds, a competitive athletic program balanced with strong academic and social opportunities," Susan said. "Playing for Coach Huffman was a great opportunity and being part of the effort to honor her for 25 years as head coach is a great way to say 'thank you' to Coach Huffman and DePauw."
As co-chair of the Huffman initiative, Susan aims to rally alumni, parents and friends to provide women's basketball players with an opportunity to travel, play ball and volunteer internationally as a team at least once during their four years at DePauw. She and John have made a leadership gift to support the new fund. "We love that we can give back to our alma mater in a way that is so personally meaningful to us," they said.
Susan said she and John enjoyed many memorable and formative experiences during their DePauw years, including meeting each other in a business ethics class. "We participated in DePauw Community Service together, played intercollegiate athletics and were active in our Greek chapters." Off-campus experiences were important, too, with John spending a semester abroad in Scotland and Susan completing an internship at Colonial Williamsburg. "Along with our classes, these experiences provided us with leadership skills and allowed us to develop socially and academically – the hallmark of the DePauw experience."
John went on to earn an MBA at Indiana University's Kelley School of Business and is now president of Barbasol Brands (Perio, Inc.). Susan earned a Juris Doctorate from University of Cincinnati and is an attorney with Ice Miller, LLP. They are parents to Maddie, age seven, and Mitch, age five. "We enjoy spending time with our family, including coaching our kids' athletic teams," Susan said. "The kids tremendously enjoyed a trip to campus earlier this fall, especially our stops at Marvin's and the Duck!"
To learn more about supporting the Huffman Endowed Fund for Women's Basketball Travel, contact Dana Cummings '99, associate vice president for development, at danacummings@depauw.edu or (765) 658-4218.