J. David Cook '66 and Ann Barrow Cook '67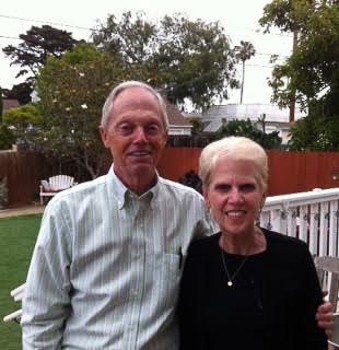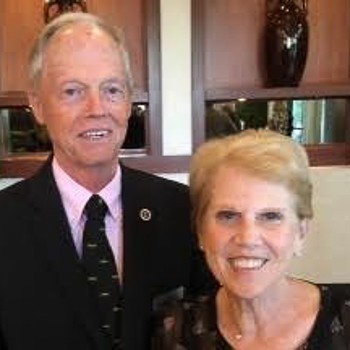 "DePauw today is even better than it was 'back in the day,'" says Ann Barrow Cook '67. She and husband David Cook '66 have visited campus many times over the past year, including a performance of Love Letters starring Bill Hayes '47, the Washington C. DePauw Society reception and Ubben Lecture by Hamilton star Leslie Odom, Jr. and the Ubben Lecture by former British Prime Minister David Cameron.
The Cooks have lived most of their lives in Indianapolis and have attended every five year reunion beginning with David's 5th. They got involved as reunion living unit representatives and Ann first became involved as a reunion planning volunteer with the Class of 1967 40th reunion. Ann is now involved as a volunteer with planning the Class of 1967 50th reunion scheduled for June 7-11, 2017.
Ann was a member of Alpha Chi Omega Sorority on campus and earned a degree in psychology. David joined Sigma Chi Fraternity and earned a degree in history after transferring to DePauw as a sophomore from Florida's Stetson University. They met that year, 1963, and were married shortly after Ann's graduation. They will celebrate 50 years of marriage this August.
David went on to earn a Doctor of Jurisprudence from Indiana University School of Law in 1975 and maintained a private practice in his hometown of Thorntown, Ind., until his retirement. Ann earned a master's degree from Butler University in 1981 and worked for many years as a school psychologist.
Now that they are retired, Ann and David enjoy extended visits with their daughter and son-in-law in California. Amy Cook Lancaster '93, earned a degree in elementary education and married Richard G. Lancaster, a Phi Delt and fellow member of the Class of 1993. The couple reside in San Diego, where Amy is a public school teacher and Dick is a chemist.
Since graduation, the Cooks have been loyal philanthropic supporters of The Fund for DePauw (formerly the Annual Fund). Ann says she is happy to support the kind of excellent DePauw experience she enjoyed for current students. "I had wonderful professors and classes," she says, "made lifelong friends and enjoyed serving on the Union Board, not to mention the great experience of meeting my husband!"
"Working on the on the reunion is a great way to re-connect with friends," Ann says. She urges her classmates to visit the website to stay abreast of class news and planned activities. There are some fun links to music and dances of the 50s and 60s, photographs of classmates then and now, a class questionnaire and more. The volunteer committee is actively seeking nominations for a reunion speaker from the Class of 1967.