Bronson '65 and Cathie Valeska Davis '66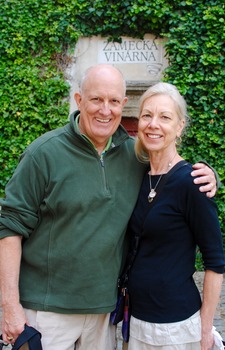 The 50th reunion years of Bronson '65 and Cathie Valeska Davis '66 are a culmination of lifelong friendships, philanthropy and volunteer leadership for DePauw.
As co-chair of the class of 1965, Bronson approached the 50th reunion with the intensity and thoughtfulness of a full-time job. These efforts included leading a yearlong series of biweekly conference calls with his fellow steering committee members Sarah Roberts Houghland, Tom Porter, Rick Ferrell, Mary Ann Brauninger Wynkoop, Valerie Watson Hamilton and Jeff Lortz. "Our approach," says Bronson, "was to make our 50th fun, while also rewarding as we reflected on the significant events we confronted as young people in the 1960s."
The class focused most heavily on the topic of race relations and civil rights at DePauw and in the nation in 1964-65. As a symbol of reconciliation among classmates and a show of support for the University's progress since 1965, members of the class stood with President Brian W. Casey in tearing up a petition of grievances they had signed as seniors.
Bronson's DePauw journey began with a circuitous route to Greencastle after playing football during his freshman year at Northern Illinois University. "Having applied and been admitted to DePauw," Bronson remembers, "I had second thoughts and sent a letter saying I didn't think I could swing it. Admission director Lou Fontaine called me to propose a solution to make it work."
Upon transferring to DePauw, Bronson discovered a number of faculty members at the heart of his DePauw experience. Bronson says, "Professors Klemke, Petrek, Findley and Baughman were first-rate teachers who challenged us in significant ways, and deeply cared for our development. Later as a graduate student in history at the University of Illinois, I remember a professor really taking umbrage at my calling him at home one evening. I had grown accustomed to that kind of relationship at DePauw."
Bronson held a number of jobs to help pay for his DePauw education. "I helped roll out the bleachers at Bowman Gym, worked to clean up Blackstock Stadium the Sunday after the games, and waited tables at the Tri Delt House." As a waiter Bronson got to know Cathie Valeska, an English Literature major from Elmwood Park, Illinois, who became president of the Tri Delt House.
Reflecting on her DePauw experience, Cathie says, "I fell in love with everything about DePauw. English professor Walker Gilmer was very influential in my DePauw education, and thanks to counsel from Dr. Garriott I decided to get certified to teach high school English. Consequently, I was totally prepared for a variety of students and classroom settings from Glen Ellyn, Illinois to Asmara, Ethiopia." After five years teaching, Cathie spent 14 years at home nurturing three children before taking on an assignment directing the development program at Fort Worth Country Day School for the last 12 years of her career.
Bronson's 33-year career was in higher education as a fundraiser for private universities, including Vanderbilt and Tulane Universities. He spent the last 14 years as Vice Chancellor for University Advancement at Texas Christian University. Bronson's experience in higher education philanthropy proved beneficial in his 50th reunion experience speaking with classmates about how they could make a difference by co-investing in DePauw students. Bronson and Cathie's careers in education were also important in shaping their own philanthropy for DePauw.
In preparation for their fiftieth reunions, Bronson and Cathie established through their estate the Bronson and Cathie Valeska Davis Endowed Scholarship Fund. "I wanted so much to create a scholarship at DePauw," Bronson says. "The University's financial aid program enabled me to go there. Everything flowed from that one phone call from Lou Fontaine. I knew that if I were ever in a position to make a significant gift, DePauw would be a place where I would do it."
As Cathie plans to attend her 50th reunion with the class of 1966 in June 2016, Bronson's class of 1965 continues to unite, next at a special Marco Island gathering as part of DePauw's Alumni College event there later this month.