Funkes Proud to Be "D-Squared" Family as Class of 1978 Reunion Approaches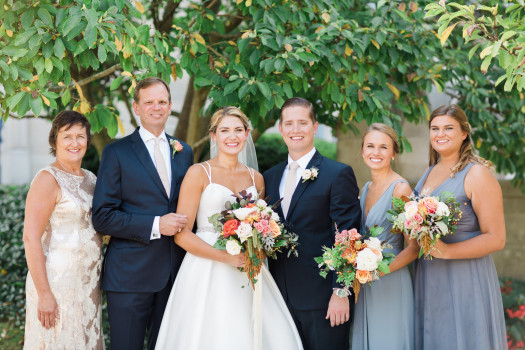 An avid reunion attendee, volunteer and past 25th reunion class speaker, Jane Brazes Funke '78 is looking forward to her 40th reunion this June and thinks attendees from every class will have a great experience. "When I hear someone say, 'I don't need to come to Greencastle; I stay in touch with everyone I'd really want to see,' I think about how many wonderful conversations I've had at reunions with people I never really knew in our student days, including those from other classes. We're all connected by DePauw, and we are all really interesting people who've had fascinating experiences. It's fun, and fulfilling, to share those over a weekend in June," she said.
"Speaking of other classes," Jane added, "two of my three daughters, Ellen '13 and Anna '18, will be on the same reunion-year cycle as I am." (Daughter Katharine graduated in 2015.) "I look forward to introducing them around to my fellow 'old-timers' in the Class of '78."
A recipient of the Walker Cup and Young Alumni Award, Jane has remained active with DePauw since graduation, serving on the Board of Trustees from 1978-81 and as a member of the Board of Visitors. She currently serves on the Alumni Association Board of Directors and the Greek Leadership Commission and is president of the Alpha Phi house corporation board. From 1986 to 1993, Jane worked for DePauw holding positions in the admissions, public relations, alumni relations and president's offices.
Jane and her husband, David (Eastern Kentucky University '78), met through a mutual friend who was a DePauw graduate. With their three daughters also attending DePauw, the entire family has a passion for supporting the University.
"Each of our daughters made the DePauw experience her own, and they were all amazing," Jane said. "I think there should be a special designation for DePauw alumni who are also DePauw parents: 'D-Squared.' That's because the appreciation for DePauw's power to transform lives increases exponentially when you have the opportunity to live it again through your children. We are tremendously grateful to DePauw for that. And because each of our daughters received scholarship assistance, we are grateful beyond words to the donors who made it possible for us to send them there."
Of the family's philanthropic support for DePauw, Jane said, "I believe in unrestricted annual giving as a demonstration of support for and trust in the institution and its mission. Of course donor-designated major gifts to the endowment and special projects are vitally important, and we appreciate the alumni and friends who have made and are making such commitments. But we're not currently in a position to make a six-figure gift, so it's good to know that every $5,000 given to The Fund for DePauw has the same impact annually as $100,000 in the endowment."