Gibson Family's DePauw Legacy Boosts Women's Lacrosse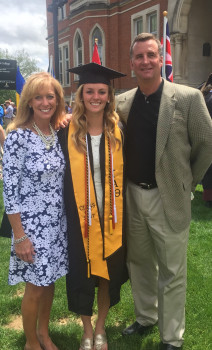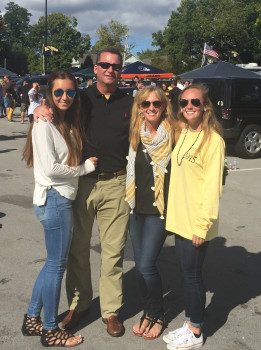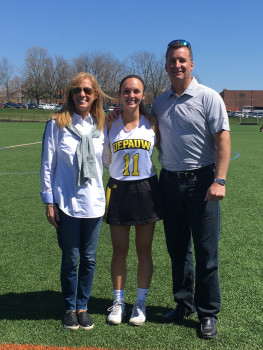 "My DePauw liberal arts education and economics major gave me a solid foundation to be successful beyond college," said John Gibson '85, chief operations officer for Inmar. "I have been blessed with a good business career and my four years at DePauw were key to my success".
John has 20 relatives who graduated from DePauw – his father, three brothers, eight aunts and uncles, grandparents as far back as the days when the University was known as Indiana Asbury University and, most recently, his oldest daughter Nicole Gibson in the Class of 2017.
John and his wife Pam Champlin Gibson, an Ohio State graduate, are parents to two daughters. Nicole '17, was a Management Fellow, Spanish major and four-year lacrosse player. She has already started working in the business world for PEP Promotions in Cincinnati. Gabi attends Miami University in Ohio majoring in communication.
John is grateful for the lifelong friendships he made during his DePauw years and is thrilled that Nicole and the rest of the family have developed such a connection with the University. He even reconnected with some old fraternity brothers whose children were attending DePauw at the same time as Nicole.
When Nicole graduated in May 2017, the Gibsons celebrated the occasion with a gift to the women's lacrosse program at DePauw. "We wanted to give back to the University, to honor the student athlete and recognize the commitment and sacrifices of the student athlete we saw in our daughter – and her teammates – during her four years playing lacrosse at DePauw," said John. "Lacrosse players give up four years of Spring Break and Little 500 in favor of their team and their athletic pursuits. It's a lot of work. Over the years, Nicole became great friends with about 40 teammates, and many of those relationships will be lifelong...that is what DePauw is all about. This gift honors that experience and helps make it possible for future students."
John and Pam Gibson have been married since 1992. The couple met in Clearwater, Fla., when Pam was a national account manager for BellSouth. "She called on my company to sell us a phone system," said John. "I didn't buy the phone system," he joked.
John started Scanner Applications, Inc. in Cincinnati in 1992, with his father, Bob Gibson '60, and brother, Jeff Gibson '90. He sold the business to North Carolina-based Inmar in 2015.
Pam volunteers for several organizations, including Lindner Center of Hope and Cincinnati Children's Hospital Kindervelt, where she is past president. She also travels to Mexico with Back2Back Ministries serving women's shelters and orphanages.
"The whole family enjoys skiing (water and snow), tennis, golf and, of course, lacrosse," John said.
@DePauw_Alumni on Twitter
---