DePauw is a Family Affair for Don '57 and Laurie Hamilton '58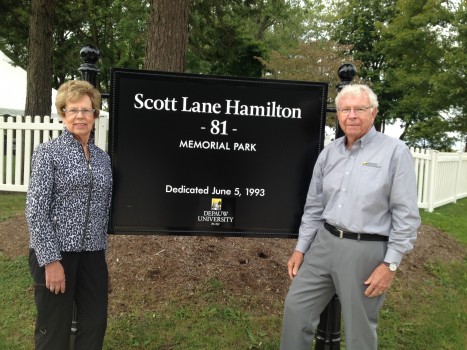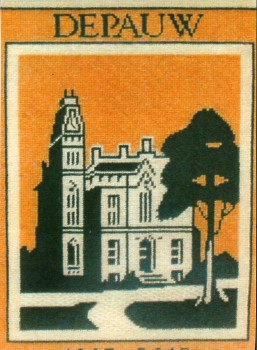 Don Hamilton and Emily "Laurie" Hooton Hamilton were on campus in June 2017 to attend the Class of 1957's 60th reunion. "It's hard to believe that 64 years ago, my folks dropped me off at DePauw to start my freshman year. I have been truly blessed because of the sacrifices my parents made so I could have the college education they never had. How proud they were to see me and then my brother, Dr. Stanley Hamilton '63, receive our DePauw diplomas," said Don.
Don earned a degree in economics and was a member of Phi Kappa Psi Fraternity. He earned a Master of Labor and Industrial Relations from University of Illinois. Laurie also attended DePauw in the Class of 1958 and was a member of Delta Gamma. She and Don married in August 1957, so in addition to celebrating Don's 60th DePauw reunion, they will also celebrate 60 years of marriage this summer.
Don worked for Magnavox in Fort Wayne, Ind. as a personnel assistant beginning in 1959 and retired in 1995 as senior vice president of human relations for Magnavox/Philips in New York City. Laurie was a stay-at-home mother for the couple's three sons and retired after 20 years as member of the retail staff of the Whitney Shop in New Canaan, Connecticut. All three of the Hamiltons' sons and a grandson attended DePauw: Scott Lane Hamilton'81, Dr. Todd Lee Hamilton '86, Mark Brady Hamilton '88 and Ted Hamilton '12. Two daughters-in-law also attended DePauw: Rev. Lisa Belcher Hamilton '80 and Elisabeth Shorney Hamilton '88.
When their son Scott passed away in 1991 only 10 years after his graduation, the Hamiltons dedicated a large part of their DePauw philanthropy in his memory. "As members of The Washington C. DePauw Society, we sponsor a Fund for DePauw scholar," said Don. "We have endowed a Scott Lane Hamilton Scholarship and Scott Lane Hamilton Memorial Park on campus. If there was ever a model for the ultimate DePauw student and graduate, Scott would have to be considered," said Don. "He lived life to the fullest! He was and continues to be 'Mr. DePauw' as he immersed himself in his studies and various campus activities. Having a memorial park in his honor at the gateway of the athletic fields fits perfectly with his love for sports and his alma mater."
The Hamiltons have been loyal philanthropic supporters of DePauw, giving a contribution every year since Don's graduation in 1957, as well as dedicated volunteers. Don served on the Alumni Association Board of Directors, was President of the Parent's Council and has been involved as a member or chair of 1957 reunion committees. He says that he and Laurie hosted in-home DePauw recruiting sessions in their home in Connecticut in the 1970's and 80's and "helped put DePauw on the map," recruiting three to four local high school graduates per year to attend. They were instrumental in founding The Class of 1957 John Wittich Endowed Scholarship.
Don and Laurie are active lay leaders in the Episcopal Church and both enjoy golfing. Laurie also enjoys her membership in P.E.O., travel, book and garden clubs, and doing needlepoint. In fact, she has created many needlepoint designs that represent DePauw, including a design of East College (pictured above) which she crafted in 36,000 stitches and presented to the University's Office of the President for her 55th reunion in 2013.
"DePauw was not only a wonderful educational experience but it prepared us for whatever the future held for us. Having our children at DePauw was truly special. Therefore, we both wanted and felt an obligation to give back to DePauw both financially and with our participation over the years," Laurie said.
Don added, "I was a first generation college student on either side of my family, and that gift from my parents was a life changing event for me – not only my education but finding my partner for life in Laurie."
@DePauw_Alumni on Twitter
---