Walt '88 and Ann-Clore Jones Duncan '89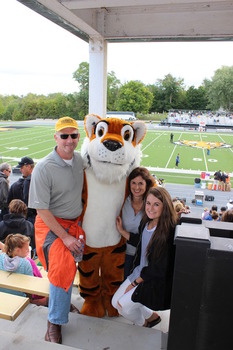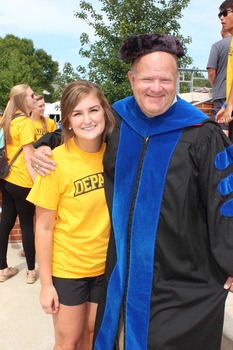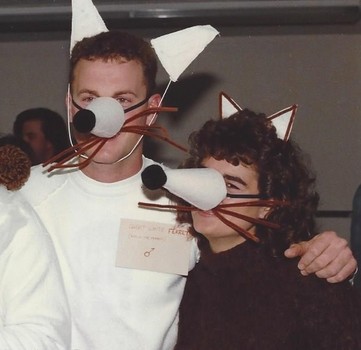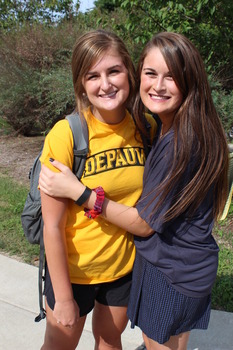 Ann-Clore and Walt Duncan were friends at DePauw for 2 ½ years before a Noah's Ark-themed dance on campus kindled the beginning of their nearly 30-year romance.
"When we arrived at the dance, we had to find our matching animal to confirm who our date was for the night," says Ann-Clore. "Walt came as a white ferret; I was a brown one. The dance was March 12, 1988, and nine years later on that same day our last child, Emma, was born. The rest is history."
Besides that fateful dance, Walt and Ann-Clore have many fond memories of their DePauw experience and the way it has shaped their lives.
Walt says he took an unusual route to finding his major. "I was taking Ralph Gray's Intro to Financial Accounting class, which was the course that weeded out everyone who wasn't meant to be an econ major. I was struggling in that course and loving Marthe Chandler's Intro to Philosophy. I decided that instead of beating my head to be an economics major, I would major in philosophy. In hindsight," he says, "that's probably when I began to believe in the value of a liberal arts education."
The Duncan's are especially grateful for DePauw's Winter Term in Service trips. As prospective students, Winter Term was a big draw for both of them.
"When Walt visited Nicaragua and I went to Haiti, the countries had just undergone huge leadership changes," Ann-Clore says. "Our visits were greatly enhanced through the strong political views the people in these countries shared as we worked with them side-by-side."
Although all three of the Duncans' children applied to DePauw, they didn't have an expectation they would attend. Independently, they each chose their own paths, and—to their parents' delight—that meant DePauw for two of their children. The Duncans' daughters are both current students. Perrin '17 is an economics and studio art double major and a Spanish minor, and Emma '19 is still exploring potential majors. The Duncans' son, James, graduates from Harvard College this spring with a B.A. in Earth and Planetary Sciences and a foreign language citation in Spanish. Ann-Clore says when James was considering colleges, President Brian Casey was an amazing "texting recruiter" and adviser to him. Though James didn't attend DePauw as President Casey encouraged, they have continued to stay in touch.
"It's been special for our family and the girls to be able to share the DePauw experience," Ann-Clore adds. "This semester, they are taking a sculpting class together. They often meet for meals and are members of the same sorority. We are thrilled that Perrin and Emma have this unique opportunity to grow as adults away from home but to share their experiences as siblings."
"In First-Year Seminar, Dr. Sununu set the tone for Perrin's DePauw education" says Ann-Clore. "I've never heard of a professor who meets with students from midnight to 2 a.m., but that is exactly when one of Perrin's conferences was held. Endless rewrites and mentor group breakfasts at Dr. Sununu's grew Perrin's writing and her deep admiration for one of DePauw's most beloved faculty members."
Ann-Clore says Perrin has had a number of wonderful leadership opportunities in Student Government, Student Life, Alpha Phi and the Admissions Office. "Her passion for the University has driven her to learn as much outside of the classroom as in it," her mother says.
The Greencastle community has provided Emma an opportunity to explore careers during the school year. She has volunteered in Cardiac Rehab in the Putnam County Hospital and is substitute teaching in the Greencastle Community Schools. Ann-Clore says, "In larger cities and schools, these opportunities may not be available to first-year college students."
Walt and Ann-Clore have remained involved with the University, each leading their 25th reunion's living unit fundraising campaigns. They have been financial supporters of The Fund for DePauw since graduation. They are recognized for their philanthropic commitment as members of the Washington C. DePauw Annual Society and the Loyalty Society.
"We choose to primarily give in an unrestricted way. DePauw has been such a good steward of donations, and we know alumni gifts are truly needed for our alma mater to thrive," says Ann-Clore.
Ann-Clore volunteers as an admissions recruiter and says this is one of her favorite ways to give back and stay connected to DePauw.
"DePauw is such a unique place where students feel at home the moment they step on campus," she says. "Not everywhere has the well-rounded, family feel we have on our beautiful, historic campus. The physical property improvements through the DePauw 2020 campaign are enormous and keep the campus relevant and inviting. Breathtaking Hoover Hall will make campus even more special when it opens this fall."
Ann-Clore says she was honored when invited to sit on the Board of Visitors last year, and she enjoys hearing and learning from DePauw's leadership team.
"Seeing the University's leaders work together and present issues in their different arenas has been eye-opening," she says. "I am grateful to have two DePauw students on campus so I can easily talk to their friends and bring students' thoughts to the BOV table."