The Kenters - a love story and life story that began at DePauw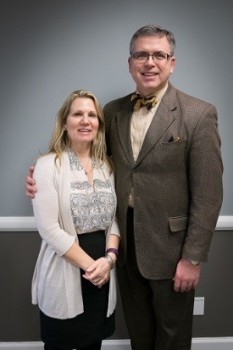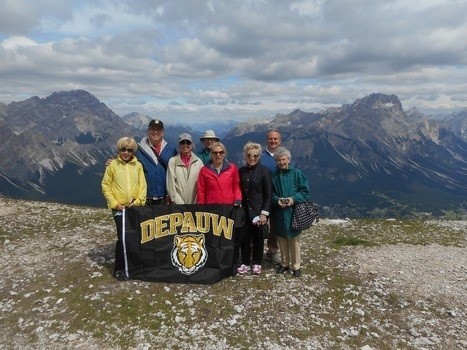 The love story of Dr. Keith Kenter '84 and Patricia Lilly Kenter '85 began 34 years ago at DePauw. "We were both on campus for Winter Term in January 1983," Patty says. "Keith was taking the MCAT review and I was studying ballet." Exactly five years later, they married. This January, they celebrated 29 years of wedded bliss that has included academic and career achievements, abundant travel and three children.
Both Patty and Keith have fond memories of their DePauw years. "The most important part of my DePauw experience, of course, was meeting Patty," Keith says. "That led to our marriage, truly the beginning for both us."
"The study abroad opportunities were also very influential," Patty says. "I studied for a semester in Greece, and Keith spent a Winter Term in India. This helped both of us begin to understand other cultures."
Their love of travel recently led Keith and Patty back to DePauw – via Italy. They registered for an art and historical tour of northern Italy organized by the University's Alumni Travel Program and led by Michael Seaman, assistant professor of classical studies and Rector Scholar adviser. Once back on campus, Dr. Seaman set about inviting the couple to share their experiences with his students. The Kenters visited DePauw in February 2017 to talk with current students about graduate school, careers and life.
"It was an honor to be asked to return as a past Rector Scholar and speak with the current Rector Scholars about my time at DePauw. I was also able to share my thoughts with the pre-med interest group regarding medical school acceptance, education and the future of healthcare in the United States," Keith said. "Our visit and these presentations were made possible by Dr. Michael Seaman and Dr. Colleen McCracken, health professions adviser in the Kathryn F. Hubbard Center for Student Engagement. It is a pleasure to see the networking opportunities for the current students of DePauw and how this has been developed through the Hubbard Center. I would suggest that this may rival many Ivy League schools."
In addition to serving DePauw and current students by volunteering their time, the Kenters have supported The Fund for DePauw (formerly Annual Fund) since graduation. "Part of the mission of DePauw University is to emphasize verbal communication, writing and analytical thinking," Keith says. "We believe these to be important in the development for life-long learning skills. It allows one to develop self-confidence and helps in fostering emotional maturity. These strengths are very important in developing future leaders. We are proud to be alumni of this institution, happy to have our son become a legacy and happy to support the University's important mission through The Fund for DePauw."
Patty and Keith say the Winter Term concept, Little 500 committees, Greek life and leadership roles were important experiences for both of them during their DePauw years and ones they're happy to support for current and future students. Keith also enjoyed playing varsity football for coaches Jerry Berndt and Nick Mourouzis.
Keith was a Rector Scholar, earned a degree in zoology with a minor in physics and was a member of Phi Delta Theta. He earned a master's in biology (biochemistry and embryology emphasis) from St. Louis University and an MD from University of Missouri. He completed an orthopaedic surgery residency at Duke University Medical Center and a fellowship in sports medicine and shoulder reconstruction at The Hospital for Special Surgery in New York City. Today he works as an orthopaedic surgeon, professor and chair of the Department of Orthopaedic Surgery at Homer Stryker School of Medicine, Western Michigan University in Kalamazoo, Mich. He is widely regarded by his peers as one of the top 28 shoulder surgeons in America.
Patty Kenter earned a degree in psychology with a minor in classical studies. She was a member of Alpha Phi, Student Government and Union Board. She earned her master's in social work from Washington University and recently retired from her career in social work as a discharge planner for hospital patients.
The Kenters have three children. Madeline, Charlotte and Mitchell '19, a student at DePauw majoring in chemistry and Italian with a minor in environmental studies.