Samuel A. Kocoshis, MD '69 Providing Student Research Opportunities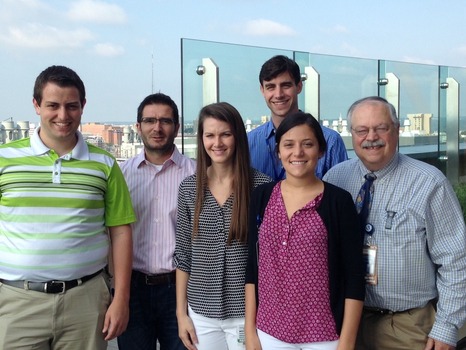 Samuel A. Kocoshis '69 is facilitating a partnership between DePauw and Cincinnati Children's Hospital Medical Center (CCHMC) to provide students access to summer research opportunities. Emily Eckert '13 was one of the first DePauw students to conduct summer research with Dr. Kocoshis. "She set up an intestinal transplant registry for us and also conducted research related to the effects of intravenous feeding on bacterial blood stream infections and liver disease. Her experience and work was mutually beneficial, so I asked DePauw to send more students," he said.
Kocoshis is an expert in the management of complex intestinal and liver disease at CCHMC. He is director of the Pediatric Nutrition and Intestinal Care Center in the Division of Gastroenterology, Hepatology and Nutrition and is also medical director of the Small Intestinal Transplantation Program. In addition, he is professor of pediatrics at the University of Cincinnati College of Medicine.
CCHMC's Summer Undergraduate Research Fellowship (SURF) provides opportunities for students to learn laboratory techniques, biomedical statistics, clinical or transitional research. "It also allows them to build a network of contacts and determine if they want to pursue a career in biomedical science," Kocoshis said.
"Students are so enthusiastic when they begin the program. It's gratifying to see the positive influence we can have on these young people at the beginning of their careers," he said. "I visited DePauw recently with a colleague who is co-director of graduate programs and director of student pipeline programs at University of Cincinnati College of Medicine. One of the student interns from our SURF program presented his research. He is a highly talented student and is very likely to have his research published in a medical journal, which is remarkable for an undergraduate student."
Prior to joining Cincinnati Children's, Dr. Kocoshis was chief of Pediatric Gastroenterology, co-director of the Intestinal Care Center at Children's Hospital of Pittsburgh and professor of pediatrics at University of Pittsburgh School of Medicine. He earned a degree in pre-medical science from DePauw and his medical degree from Medical College of Wisconsin. He completed an internship in pediatrics at West Virginia University Medical Center, a residency in pediatrics at Children's Hospital of Pittsburgh and a clinical fellowship in gastroenterology at Yale University School of Medicine.
"My DePauw experience was valuable in many respects. The broad, liberal arts education taught me life skills even beyond what I learned in the classroom – how to be a critical thinker, to defend my point of view, how to interact with others with differing viewpoints. These skills are extraordinarily valuable in medical research and the medical profession at large," he said. "As an academic pediatrician, you are given an exam every day of your life. You make 500 decisions in a day. It's extremely important to have clarity of thought and a firmness of conviction but a willingness to change your mind when faced with evidence that runs contrary to what you support."
Kocoshis has been a loyal supporter of The Fund for DePauw (formerly the Annual Fund) for more than 30 years. "I support each of the universities where I earned my education," he said. "I give more to DePauw because it's a private, liberal arts school that depends on the loyalty of its alumni to sustain opportunities for future generations."