Cassidy Michaela Ragains '16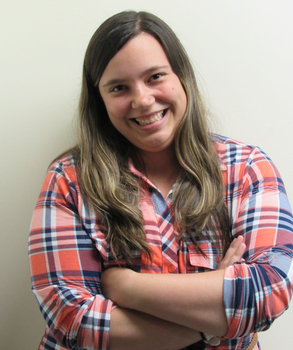 Cassidy Michaela Ragains '16 is a first-generation college student (and soon-to-be graduate) who majored in biology and minored in biochemistry. The recipient of the Floyd V. Kilgore Scholarship and the Lisa Drack Scholarship, Cassidy made her first gift to DePauw as part of the 2016 Senior Gift Drive.
"Neither of my parents were able to go to college," Cassidy says, "and I wouldn't have been able to attend DePauw if not for the scholarships I received."
"Working with DePauw's Development Department and the Phonathon on campus, I see how each gift, no matter the size, adds up to make a big difference," says Cassidy. "I hope to contribute to a scholarship for another student like me who couldn't be here otherwise."
With two jobs and a full course load, Cassidy also made time to help her three younger brothers with homework and school projects. Her perseverance and strong educational drive also inspired her mother to continue her education.
Cassidy has been accepted into the research program at Louisiana State University Health Science Center where she will earn her Ph.D. in microbiology. She says that after graduate school, she'd like to teach at a liberal arts college like DePauw and also do medical research like some of her science professors here.
"I'm really interested in research related to cancer and Parkinson's disease because of my grandmothers' experiences as patients and my family's experience as caregivers struggling with those diseases," she says. "There aren't many treatments for Parkinson's disease, but new research is studying viruses that can actually help the brain fight the disease. The graduate school I'm attending has one of the top virology programs. I'm excited to study virology, immunology and how viruses can be used to create better treatments."