Tom Schuck '72 Leads Giving for Rector Scholarship Centennial Initiative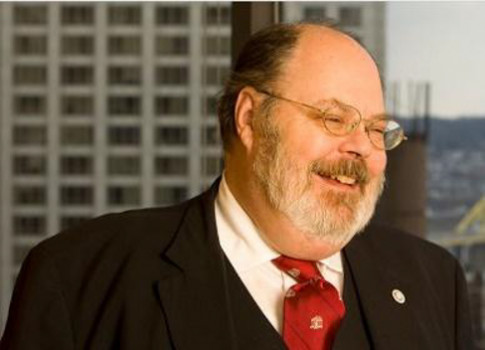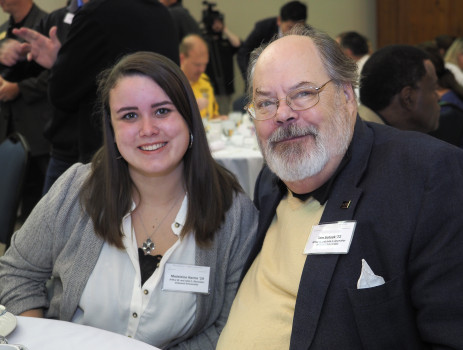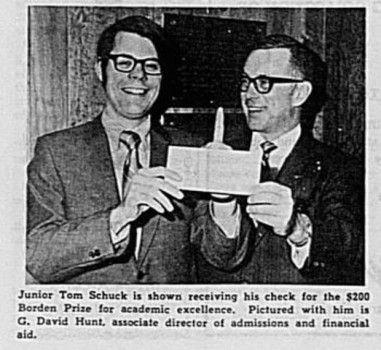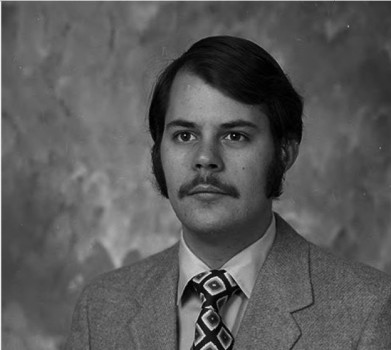 As a DePauw student, Tom Schuck '72 coached swimmers for Charlie Erdmann, played baritone horn in two bands for director Dan Hanna and news edited The DePauw newspaper. And those were only a few of his liberal arts endeavors. Today, Tom is a successful attorney, a community volunteer and one of the lead donors for the Rector Scholarship Centennial Initiative.
"DePauw taught me to function in leadership roles in small groups and to balance the importance of academic work and extracurricular activities," Tom said, noting that he took full advantage of the opportunities DePauw provided to participate in a wide variety of programs and experiences. "I was a member of the student senate, joined Delta Chi fraternity and worked for the university food service waiting tables in Lucy Rowland Hall and catering parties."
Tom came to DePauw in 1968 as a Rector scholar and graduated in 1972 with a degree in English literature and history. He went on to earn a master's degree from the University of Kent in England in 1974 and a juris doctorate from Harvard Law School in 1976. He is a partner in the law firm of Taft Stettinius & Hollister LLP in Cincinnati, Ohio. He served as the national president of the Federal Bar Association for 2004-2005 and is a trustee with the Ohio Masonic Home and Ohio Masonic Home Benevolent Endowment Foundation.
Tom has remained involved with DePauw for more than 30 years as a leadership-level financial supporter and as a member of the executive committee of the Washington C. DePauw societies and the Alumni Association Board of Directors, for which he has volunteered to plan class reunions and coordinate activities. He has been a longtime loyal supporter of The Fund for DePauw.
In 2013, Tom established an endowed scholarship in memory of his former professor Arthur W. Shumaker '34 and Shumaker's wife, Julia Crawley Shumaker '33. Arthur was an English professor at DePauw from 1942 until retiring in 1979, and Julia was a member of the Romance Languages Department from 1941 until 1956. Income from the fund provides scholarship support for students in good standing with demonstrated financial need who have declared a major in English or romance languages; and who are recommended by the faculty.
"I have developed lifetime friendships with a number of my classmates and fraternity brothers, as well as a deep appreciation for the commitment that DePauw's faculty members make to the university and its students," Tom said. "Without the mentorship and love of Dr. and Mrs. Shumaker, I would not have had the experience that I did. I also made many friends in the university administration when I was a student, which taught me a great respect for the people who contribute to a university's well-being in other than academic ways. My four years at DePauw have shaped the rest of my life and guided my involvement in community activities at every level."
Tom recently formalized a deferred estate gift of $500,000 to support the Rector Scholarship Endowment Fund. He is co-chair of the steering committee with Mike Smith '70 that is planning events and spearheading fundraising for the Rector Scholarship Centennial on campus May 10-12, 2019.
"I choose to support endowed giving at DePauw because it is a way of repaying the financial support that made it possible for me to attend the university and receive the excellent undergraduate education that DePauw offers. Supporting an endowed fund provides a perpetual gift of financial support for the university's educational mission," Tom said. "Adding DePauw as a beneficiary in my will is a way to honor the university's belief in me by allowing me to attend DePauw as a Rector scholar, and it's a way of 'paying it forward' to assist students in the future."
The gift establishing the Rector Scholarships was made in 1919 by attorney Edward Rector and his wife Lucy Rowland Rector. As one of the most influential acts of philanthropy in the history of DePauw, the program was intended to award Indiana's best 100 students with the opportunity for a DePauw education each year. Since the first scholarships were awarded in 1919, DePauw's Rector Scholarship has propelled more than 4,000 DePauw alumni to lives of accomplishment. DePauw will invite current and former Rector scholars to celebrate the 100th anniversary of the endowment on campus May 10-12, 2019. A $14 Rector Centennial fundraising initiative will increase the Rector Scholarship Endowment to $40 million.