Travis Wegren '17 Moves from DePauw to Diplomacy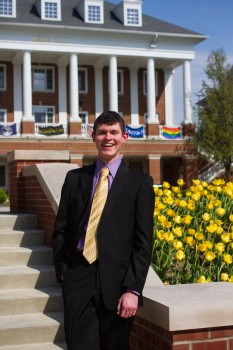 "As I prepare to join the network of DePauw alumni," said Travis Wegren '17, "it has been an honor to spend my last semester as a member of President McCoy's Leadership Seminar. In this course, I and my student colleagues have been learning how to become 'highly effective leaders.' We began our journey by first learning how to effectively lead ourselves, before we moved on to exploring how to effectively lead others. In addition to our classroom meetings, we have been working in teams to solve various challenges that we have each discovered on DePauw's campus. For my project, I have been working on generating support for the Senior Gift Drive where all proceeds will be contributed to student scholarships. While the financial aspect of this initiative is certainly important, the heart of our mission is to educate our peers on the impact that every gift has on the well-being of DePauw. In our own small way, that's the legacy that we hope to leave at DePauw and on this community that we call home."
Travis, a history and Spanish major from Libertyville, Ill., said aside from philanthropy his interests include cooking, photography, foreign language learning (he is currently studying Portuguese), U.S. - Latin America relations and local history.
"I spent the spring of 2016 studying internationally in the Havana municipality of Marianao, Cuba," he said. "This experience provided me with the opportunity to live, work and study as a participant observer in a suburban Cuban community. A significant portion of my time was spent conducting an independent research project to study the challenges faced by Cuban entrepreneurs as they struggle to enter the growing private sector. I spent hours in conversation with members of the broader Havana metropole to collect my data and made new friends along the way."
Travis's time in Cuba served as the inspiration for his senior history thesis on Ernest Hemingway's tenure in Cuba. "While Hemingway has been well studied from a literary perspective, his more than two decades on the island have been lightly researched," Travis said. "This lack of scholarship presented an ideal opportunity for me to apply my background in history with my Spanish language skills as I analyzed documents that were written in Spanish. Over the fall break of 2016, I received a grant from the Kathryn F. Hubbard Center for Student Engagement to cover my travel expenses to the John F. Kennedy Presidential Library in Boston, Massachusetts. The purpose of my visit was to access the primary documents held in the Ernest Hemingway Collection. It was exciting to be able to work on an interdisciplinary thesis and add value to the broader historical community."
Travis said several key factors influenced his desire to give back to DePauw. "As a member of the Student Philanthropy Council from its inaugural year in 2014 to my current role as Chair of the Senior Class Gift Drive, I have had the opportunity to interact with a variety of alumni when they have come to campus. I am grateful for the financial support I have received to attend DePauw and for the generous grant funding I have received over the years to pursue Winter Term internships and my archival research as I wrote my senior thesis. I want to follow the lead of the University's philanthropic alumni in creating a robust future for the DePauw students of tomorrow."
Following graduation, Travis is preparing for a career to work as a diplomat with the U.S. Department of State. In the short-term, he will be working as a graduate fellow in a diplomatic position.
@DePauw_Alumni on Twitter
---