1968 Class Giving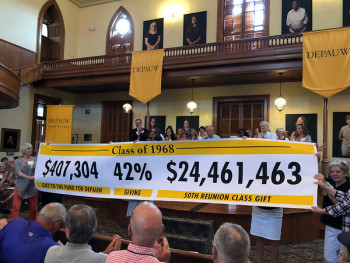 Each year, DePauw's reunion classes make a significant impact on the University by encouraging giving to The Fund for DePauw. The 50th reunion class leads the way in this effort by raising one-third of the total given by all reunions.
The collective impact made by alumni in a reunion year is significant. Your giving supports student scholarships, student experiences, faculty, athletics and the School of Music, as well as many other of DePauw's highest priorities.
Gifts from the 50th reunion class contain two parts:
The total of our gifts to The Fund for DePauw (unrestricted annual gifts made between July 1, 2017 – June 30, 2018) and

The 50th Reunion Class Gift (which combines all giving since our 45th reunion including planned gifts, foundation gifts, matching gifts; as well as all pledges made through June 30, 2023; and this year's gift to The Fund for DePauw).
At our reunion in June, we will celebrate these gifts during a convocation of all classes. As past 50th reunion classes have seen, these totals are truly impressive in the difference we can make for current and future students, as well as being a testament to the legacy of DePauw University.
Our 50th Reunion year is the perfect time to make estate plans honoring the impact DePauw University made in our lives. Throughout this year, you will receive more information about making gifts of any size, as well as planned gifts, in honor of our 50th Reunion. If you would like to speak to someone about making a gift of stock, an IRA rollover, a charitable gift annuity, designating DePauw in your will, or any other planned gift, you can read more on DePauw's legacy planning web site or contact:
Rosie Blankenship, CFRE
Reunion and Class Giving Officer
765-658-4211
rosalieblankenship@depauw.edu
Eric D. Motycka, MBA, PhD
Director of Legacy and Estate Planning
765-658-4216
ericmotycka@depauw.edu
Our Progress
Our Class of 1968 Donor Honor Roll acknowledges those gifts made during fiscal year 2018 in honor of our class gift.
The figures shown below are based on giving from July 1, 2017, to June 30, 2018.
Visit 2018 Reunions by the Numbers for an overview of how all classes celebrating reunions in 2018 are doing on their fundraising. Also, visit Reunion Giving Records to see the top 10 classes for giving and participation in giving to The Fund for DePauw.