Frequently Asked Questions about Alumni Reunion Weekend
Registration
It is not my class reunion year. May I still attend?
Of course! While we celebrate specific milestones, everyone is invited back to campus for the event.
Can I get a paper copy of the registration form to fill out and mail in?
Yes! If you are a member of the 1968 class and you are celebrating your 50th, please click here. For all other class years please click here.
What is the online registration deadline?
The online registration deadline will be May 25, 2018.
M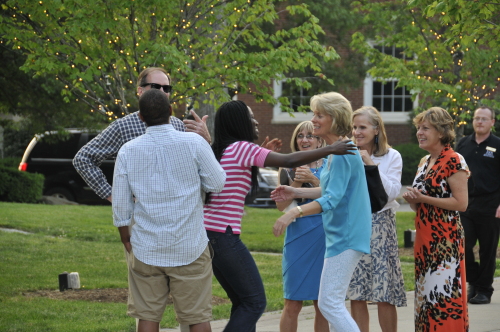 ay I register to attend the reunion after the registration deadline?
DePauw's Alumni Reunion Weekend is well-attended every year and space may be limited based on the anticipated size of the class for specific functions. Availability is given on a first-come, first-serve basis and quantities are limited. We cannot guarantee meal tickets or accommodations will be available for alumni who register after the registration deadline or who arrive on campus without a reservation.
Can I change my registration?
Absolutely! Please contact the Alumni Engagement Office at 765-658-4209 to make any modifications to your registration.
May I cancel my registration and obtain a refund?
Refund requests will be handled by the Alumni Engagement Office at 765-658-4209. Cancellations made on or before May 25, 2018 will be refunded in full. Lodging fees can be refunded if the request is made no later than June 5, but refunds for meals, events and registration fees will not be available after May 25.
Is there a registration fee?
The fee to register for Alumni Reunion Weekend is $25 per person (no fee is charged for children ages 12 and under).

The registration fee helps to cover various expenses (table and chair rentals, printing and postage, additional security, custodial and other labor overtime and general entertainment) of the weekend. There are also several general events for which there is no additional charge. The registration fee is waived for children 12 years of age and younger.


lodging
Can I stay in my fraternity/sorority?
Individual House Corporations/Boards determine who can stay in the Greek living units during Reunion Weekend. Please check with your fraternity or sorority for additional information.


What is the cost of lodging in student living units?
Rooms are $28 per person, per night, based on shared occupancy. Private occupancy is $56 per person, per night. This price includes innkeepers and Indiana sales tax. Children 12 years of age and under with sleeping bags are not charged. Children under the age of 18 must be accompanied by an adult in order to stay in University housing.
What class years have been assigned to what student living units?
Reunion classes will be housed together in residence halls as space permits. Complete your Alumni Reunion Weekend Registration Form as soon as available to ensure that you are housed with classmates.
I am bringing my family with me to the reunion. Is there an alternative to the residence hall offering?
Limited family housing is available for alumni bringing their children. If interested, please note this in the lodging requests field on the online form or check the box on the paper form. Please be sure to include in the lodging requests section the number of children attending and their ages.
To whom do I direct specific rooming requests?
Please include any special room requests on your registration form. Please note that there are no rooms with a full size bed; shared rooms will have two separate twin beds. If you want to room with a particular person who is not your guest for the weekend, please indicate the name of that person in the space provided on the Alumni Reunion Weekend Registration Form.
Can I request a room adjacent to a specific person or group of people?
Yes, and every effort will be made to accommodate your request. All special rooming requests must be submitted by May 1 and all interested parties must be registered at that time.

What items will be provided in my dorm room and what should I bring?
Please click here to view this information.
What lodging is available off campus?
For a list of local lodging in and around Greencastle, please click here or visit our Local Lodging page. There is a waiting list for The Inn at DePauw. To be placed on this list, please contact the Alumni Engagement Office at 877-658-2586.
Food & Beverage

I have special dietary requirements. Will food options be available at all of the events?
Please indicate your needs on your registration form, and we will work with our catering department to meet your needs.
If I want to eat off campus, what options are available?
Whether you are seeking fast food, a home-cooked meal, or a favorite item from one of the old haunts, there are many options available. Please click here for a list of options.
Can I buy a drink with my credit card?
At local restaurants and bars, yes, but most of the bars set up at meals on campus will require cash.
arrival
I am flying into Indianapolis International Airport. Will there be shuttle service available?
Please call the Office of Alumni Engagement for transportation options between the Indianapolis International Airport and DePauw, 765-658-4209. Limited space is available on a shuttle for Thursday and Friday arrivals (1pm and 5pm both days) and Sunday departures (8am and noon) at the cost of $20/person each way.
Where do I go when I arrive on campus?
Make your first stop on campus the Registration area located in the Emison Building and Museum to receive your residence hall room assignment, room keys and all reunion weekend registration materials. Even if you didn't register in advance, please stop by registration for a nametag and schedule of events. Follow the signage upon arrival to campus.

When can I arrive on campus?
Registration is available beginning at Noon on Thursday, June 7 in the Emison Building and Museum. If you are planning to arrive on campus later than 7 p.m. on Thursday or after 9 p.m. on Friday, please call the Office of Alumni Engagement at 877-658-2586 to make alternate arrangements to get your check-in materials.

Note: as of 6/6/18, US 231 between I-70 and US 40 is undergoing repairs. If traveling this route, expect traffic delays due to construction.
general
What should I wear?
Although dress is fairly casual for the weekend, class reunion dinners may vary. If you have a question about appropriate dress for these events, please contact one of your class reunion volunteers. A list of all class pages can be found by clicking here.

Where should I park while on campus? Will I need a parking permit?
Alumni and guests may park in any legal parking space on campus. Click here for a campus parking map. No parking permits are needed during Alumni Reunion Weekend.
What if I have additional questions? Who do I contact?
lf you have any further questions about Alumni Reunion Weekend, please write, call, fax or email:

DePauw University Office of Alumni Engagement
411 East Seminary Street
Greencastle, IN 46135-0031
Toll free: 877-658-2586
Fax: 765-658-4041
E-mail: alumnioffice@depauw.edu