History of Washington C. DePauw
Washington C. DePauw (1822-1887) was DePauw University's first great benefactor. He was a self-made businessman whose investments in banks, railroads, iron factories, a woolen mill and a chemical plant made him one of the wealthiest men in the state of Indiana.
Washington C. DePauw was also a philanthropist. He had a great interest in Indiana Asbury College, contributing funds for the completion of East College, and giving to the literary societies, the library and the student loan funds. He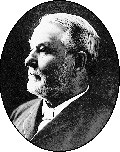 was a parent of two sons who graduated from Asbury, and he served on the Board of Trustees.
In 1883, DePauw created a will bequeathing a substantial part of his estate for the establishment of a university bearing his name. When this intention became known to the trustees of Indiana Asbury, they proposed he donate his resources to their college, which they would rename DePauw University. DePauw agreed to this proposal, provided the University would raise matching sums of $150,000 for the endowment and $60,000 to purchase land for the enlargement of the campus. DePauw matched each dollar raised with two of his own, and in 1884 the name of the University was changed.