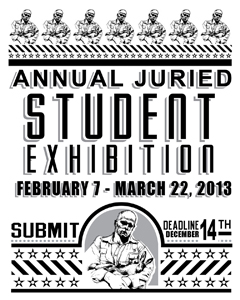 Annual Juried Student Exhibition
February 7 - March 22, 2013
Peeler Art Center, Visual Arts
The Annual Juried Student Art Exhibition features works created by current DePauw students enrolled in studio art courses. This year's exhibition was juried by Sarah Aubrey, Curator of American Art, at the Fort Wayne Museum of Art.
Juror's Statement
As a curator, it's always exciting to see fresh work and meet new artists from across our state. This keeps me up-to-date and selecting juried exhibitions, such as this, hones my critical opinions. A salute to all artists who submitted entries; thank you for sharing your works and allowing me to contribute as juror.
Adjudicating a student show is both especially exciting and particularly challenging. The enthusiasm of creation, the spark of inspiration, the embarkation on the first steps to a career, the thrill of trying a new medium for the first time—all of these concepts pulsate throughout the work, and the evident passion is contagious. However, the task of finding connections and fluidity in such a disparate body of artworks is no small feat. Certain works grab you; insist on being included from the moment you first see them. Others are dismissed but you keep returning to them, an unnamed fascination. The hardest moment is releasing a work you personally connect with from the show because it just doesn't fit, no matter how you've tried. I hope you, the viewer, enjoy what has been assembled.
While the aforementioned diversity of media and style was striking, as I spent time in the galleries, several threads of continuity began to emerge. At first, I noticed the organic nature of many submissions. However, many of the artists pushed that envelope further, portraying a sense of mutability, of change as the only constant. The multiple artworks that exist in a series took this idea of transformation into an even more literal sense, beginning to unify the exhibition into shape.
Another defining characteristic of the entries was the overwhelming appreciation of color. Hues vibrate from graphic minimalist works and into photographs that read less like documentation, and more like a color field impression of a scene or object. Bold, stark loud colors and soft, gentle, peaceful colors. Color theory is alive and well in Greencastle!
Once again, thank you to the contributing artists. Congratulations to those of you selected, and, if not selected, I hope to see more of your work in the future—there are great things to come for all of you!
About the Juror
Sarah Aubrey is the Curator of American Art at the Fort Wayne Museum of Art and has curated over thirty exhibitions, notably: Wyeth: An American Legacy, Treasures from the Farnsworth Art Museum, Through the Glass Nightly: Photographs by Cara Lee Wade, Soft Tissue: Sculpture and Works on Paper by YaYa Chou, Outside the Circle: Woodturning in Indiana, the critically lauded shows: Female Forms & Facets: Portrayals of Women in Art and the 2010 and 2012 Contemporary Realism Biennials, as well as the reinterpretation and installation of the Museum's permanent collections in their American Art Initiative galleries, following a major expansion and renovation of the FWMoA in 2010. Aubrey has served as a public arts advocate and committee member of Vision 20/20, grant panelist for the Indiana Arts Commission, instructed in art appreciation at IPFW, and travelled to Turkey on a month-long cultural and vocational exchange through the Rotary Foundation. She holds a BA from Hanover College in Art History, and a MA from the University of Sydney in Curatorship and Modern Art.