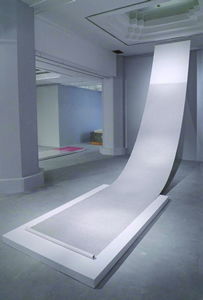 Zhang Yu
Scroll Fingerprint, 2008
Ink on Xuan paper
Courtesy of Pearl Lam Galleries, Shanghai, China
Mind Space: Maximalism in Contrasts
September 7 - December 7, 2012
This exhibition of mixed media installations portrays a new realm of artistic expression. Mind Space introduces 4 Chinese abstract artists who convey the concept of "Maximalism" to a global audience. Maximalism is a term coined by curator Dr. Gao Minglu, one of the world's leading scholars of Chinese contemporary art. Maximalism expresses the meditative mind of the abstract artist during the creation process, emphasizing the spiritual experience of art-making. The creations of Zhu Jinshi, Zhang Yu, Lei Hong, and He Xiangyu are a dialogue between artist and nature, an inventive response to a rapidly changed material world.


Mind Space is curated by Gao Minglu and developed by Pearl Lam Galleries, Shanghai, China with tour organized by International Arts & Artists, Washington, DC.
Percussion@Peeler
Wed., Oct. 3, 2012 - 6:30 pm
In conjunction with the contemporary Chinese art exhibition Mind Space: Maximalism in Contrasts, the DePauw Percussion Ensemble presents its annual program of contemporary solo and chamber works for percussion, composed and improvised, in a non-traditional concert setting. Directed by Amy Lynn Barber, the one-hour performance fuses contemporary art and music in the galleries at Peeler. Refreshments will be served following the event.