Composer, producer, and vocalist Lisa Bielawa is a Rome Prize winner in Musical Composition and takes inspiration for her work from literary sources and close artistic collaborations. Her music has been described as "ruminative, pointillistic and harmonically slightly tart," by The New York Times. She is the recipient of the 2017 Music Award from the American Academy of Arts & Letters and was named a William Randolph Hearst Visiting Artist Fellow at the American Antiquarian Society for 2018.
Bielawa consistently executes work that incorporates community-making as part of her artistic vision. She has created music for public spaces in Lower Manhattan, the banks of the Tiber River in Rome, on the sites of former airfields in Berlin in San Francisco, and to mark the 30th anniversary of the fall of the Berlin Wall. In 1997 Bielawa co-founded the MATA Festival, which celebrates the work of young composers, and for five years she was the artistic director of the San Francisco Girls Chorus.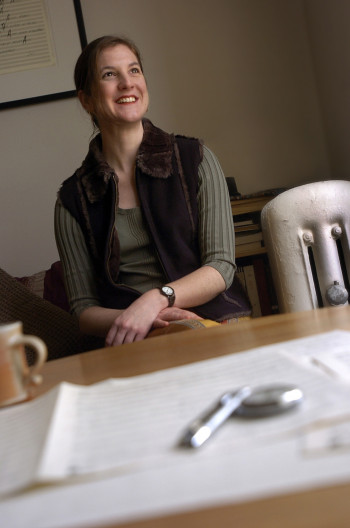 She received a 2018 Los Angeles Area Emmy nomination for her unprecedented, made-for-TV-and-online opera Vireo: The Spiritual Biography of a Witch's Accuser, created with librettist Erik Ehn and director Charles Otte. Vireo was filmed in twelve parts in locations across the country and features over 350 musicians. The Los Angeles Times called Vireo an opera, "unlike any you have seen before, in content and in form." Vireo was produced as part of Bielawa's artist residency at Grand Central Art Center in Santa Ana, California and in partnership with KCETLink and Single Cel. In February 2019, Vireo was released as a two CD + DVD box set on Orange Mountain Music and it is coming to the stage in 2021 as VIREO LIVE, a hybrid film-opera 90-minute experience.
Bielawa's recent and current work includes concertos for violinist Jennifer Koh (Sanctuary) and cellist Joshua Roman (Heart Land) and an orchestral song cycle for mezzo-soprano Laurie Rubin (Centuries in the Hours); Voters' Litany, a commission from the Cathedral Choral Society that marks the centennial of the 19th Amendment; and Voters' Broadcast, a series of 20-minute public-space musical performances, developed at Kaufman Music Center and designed to stimulate voter registration, political awareness, and community fellowship. Her latest work for public spaces, Mauer Broadcast, was a series of pop-up choral performances for the 30th anniversary of the fall of the Berlin Wall at locations including the Brandenburg Gate and Alexanderplatz in November 2019. She will have her second residency as a performer/composer at John Zorn's venue The Stone in March 2020.
Her work has been premiered at the NY PHIL BIENNIAL, Lincoln Center, Carnegie Hall, The Kennedy Center, SHIFT Festival, Town Hall Seattle, and Naumburg Orchestral Concerts Summer Series, among others. Orchestras that have championed her music include the The Knights, Boston Modern Orchestra Project, American Composers Orchestra, the Orlando Philharmonic, and ROCO (River Oaks Chamber Orchestra). Premieres of her work have been commissioned and presented by the Chamber Music Society of Lincoln Center, Brooklyn Rider, Seattle Chamber Music Society, American Guild of Organists, and more. She is recorded on the Tzadik, TROY, Innova, BMOP/ sound, Supertrain Records, Cedille, Orange Mountain Music and Sono Luminus labels.
For more information, please visit www.lisabielawa.net.