Bill Rasmussen '54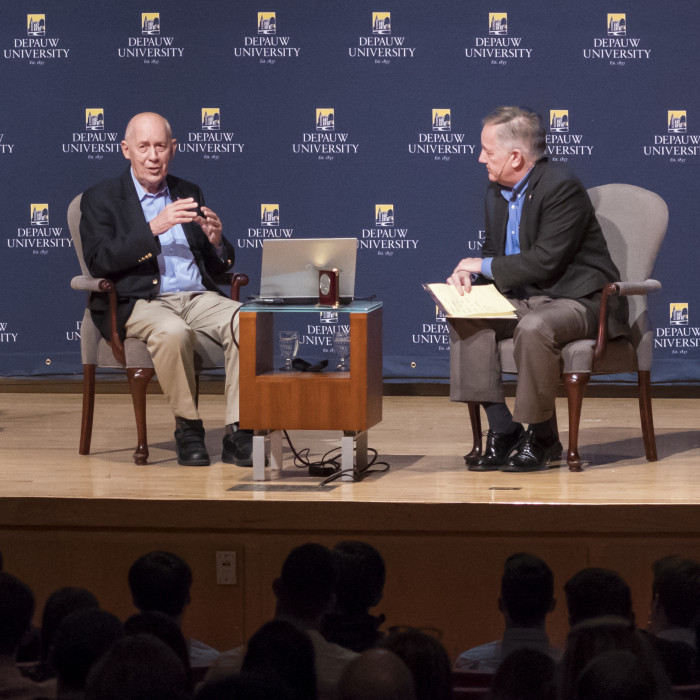 "You will remember your days at DePauw, and if you apply (your experiences) and put them into your brain, so to speak, and mix them in there... Oh, the places you'll go," the founder of ESPN, Bill Rasmussen, told an audience at his alma mater tonight.
A 1954 graduate of DePauw University, Rasmussen delivered an Ubben Lecture in Kresge Auditorium. The speech was part of a week-long residency that began Monday and continues through the weekend. The pioneering broadcast entrepreneur is spending time with DePauw students individually and in groups, including sessions with Media Fellows, Management Fellows, and Rector Scholars (Rasmussen came to DePauw as a Rector Scholar).
During a program titled "Finding Your Passion, Realizing Your Dream" he told a crowd of 620 that the experiences that are had in the classrooms and living units around campus should be seized, as they are important and life-changing. And change agents ask a lot of questions, he stressed.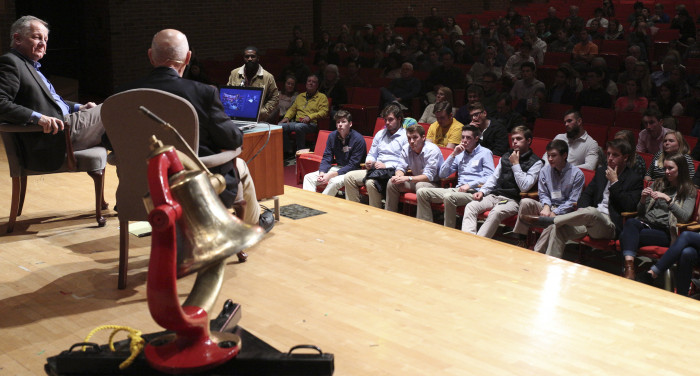 A DePauw education involves "students helping students solve problems, students going to professors solving problems, and I always got an answer," Rasmussen -- who majored in economics and minored in history -- stated. "I don't think there was ever a door closed in a professor's office while I was here if there was a question to be asked ... And the camaraderie and loyalty of alumni is amazing."
He urged students to take advantage of the opportunities they have on and off campus, stating, "One thing that I learned at DePauw is that you can learn as much as you want or as little as you want; you can take advantage of all of the assets that are here, or you can ignore some of them. I wanted to know everything about everything."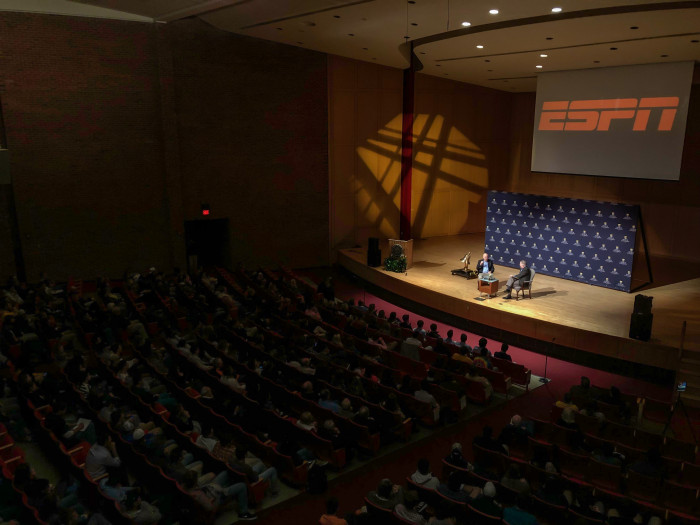 Rasmussen recalled, "Every class we went to we could ask anything and the basic answer was, what do we want to do? Where do we want to go? The professors that we had then would help" in getting to the bottom of questions and developing a sense of curiosity among their pupils.
Rasmussen spent time looking back on the founding of ESPN, which signed on in 1979 and was co-founded by his son, Scott, a 1986 DePauw graduate. "The pieces just fell into place. We just kept saying, 'What about?, Can we do this, can we do that?'"
Rasmussen took the idea for a 24-hour sports network to investors are received seven rejections, yet remained confident. "Some people say 'no'. When they tell me no, I think they made a mistake, I don't think it was a bad question."
His eighth pitch, to Getty Oil, led to the realization for his dream.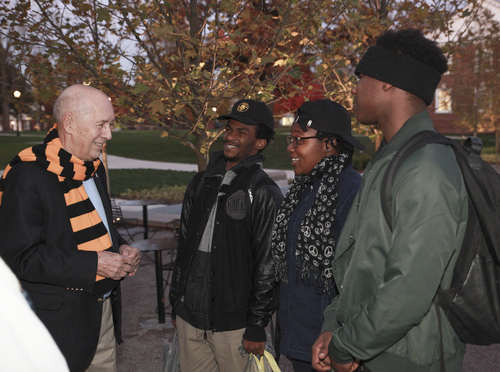 Looking back almost 40 years, Rasmussen said that in the late 1970s the idea of broadcasting around the clock was viewed as radical thinking. "Television then was New York-centric. If it didn't fly in New York they didn't really care about the rest of us. And they figured everyone in the eastern time zone was asleep by one o'clock, so (they signed off).
"So we started at seven o'clock. We went through to five o'clock Monday morning, so we went around the clock nearly 60 hours, and nobody had ever done that before."
During the talk, Rasmussen encouraged today's students to dream big and pursue their ideas. "Anybody who thinks everything that can be invented has been invented is wrong. That's not the way it works .. Any idea you have, try it. If it works, great, if it doesn't work, drop it and move on."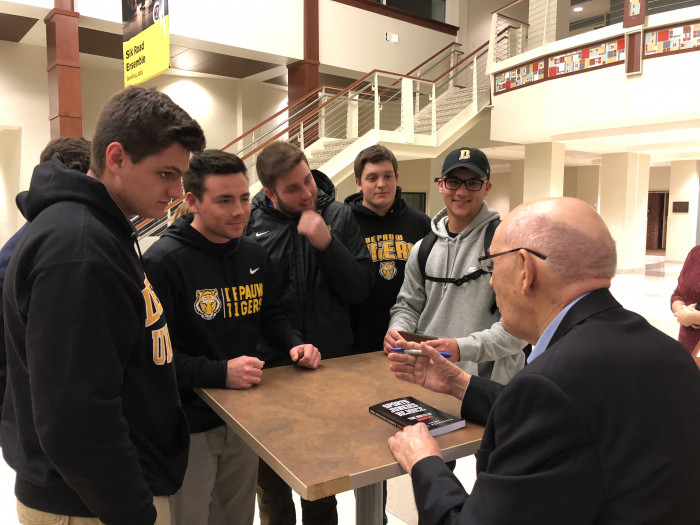 The program, which was moderated by Ken Owen '82, special adviser to the president, took place with the Monon Bell on stage. At the conclusion of the talk and a question-and-answer session with students in the audience, Rasmussen gave the winner's trophy in the annual DePauw-Wabash College football rivalry a good pull.
The Bell became the victor's prize in 1932, the year Rasmussen was born. But the Tigers were 0-4 during his students days; he later said it was his first time ever ringing the Bell.
Rasmussen will be in the Blackstock Stadium stands for Saturday's 124th Monon Bell Classic.
The evening concluded with a book signing in the Great Hall of the Green Center for the Performing Arts, where Rasmussen spent about an hour meeting with audience members. He authored Sports Junkies Rejoice! The Birth of ESPN.