Podcasts really let you make use of learning time that often goes to waste. Spiritual podcasts, especially, have an uncanny ability to drop you in the center of self contemplation, thoughtfulness, soul searching and a state of tranquility. Here are some of the podcasts recommended by students, faculty and staff. If you wish to recommend a spiritual/religious podcast, please fill out the form below.
We exist to answer the question, "What would it take for people of other religions to see evangelical Christians as the most hospitable and loving members of their society?"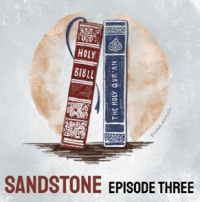 "Brother from Another Mother" is the first of a three part series on Islam, featuring three individuals and their distinct religious experiences. In this episode, Pastor Joseph Cumming joins us from Yale University to share his experience in the Muslim world and answer some of our questions about Islam.
Why are we talking with an Evangelical Christian about Islam? Great question! Evangelical Christianity remains a prominent feature in the cultural fabric of Appalachia. So before we begin to understand Islam, we'll first reflect on our own religious identity. Islam and Christianity are brothers, and if we look closely, we might just find some brotherly resemblance.