Be Featured on Tigers of DePauw!
Tigers of DePauw aims to spread positivity in the community by covering candid stories from around the campus. Whether you have been at DePauw for a year or a decade, we want to hear from you! Follow us on Instagram and Facebook. Fill out the form below and we'll be in touch soon. Here is a story we covered!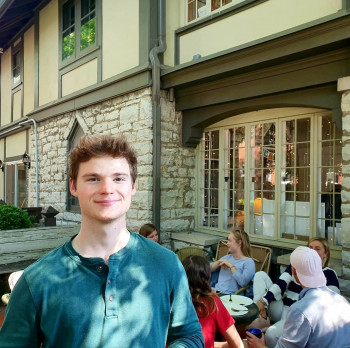 My name is Thomas Curdt, I'm a Sophomore. I'm in the School of Music and an English major. Today I'm here for Curry Friday for the Green Dot Program. We are a bystander intervention program to help people prevent power based violence through the community and have each person stand up. I've been coming to Curry Friday for the last semester and a half or so and it's a really cool event as many different communities come together around some really tasty food. This week I got to help Chaplain Sami cook and it was a blast. It was my first time cooking curry and I love cooking so it was fun to do it; chopped a lot of onions, got to see a lot of different spices and had a good conversation with Sami. It's interesting to see all the different communities here. Im part of CSA, Catholic Tiger and a lot of them showed up today, people from the school of music came too and those I met at the Day of Dialogue were around as well. A lot of different groups were coming together today, having curry and having meaningful conversations maybe about Green Dot or about how good the curry was! Whenever there is food involved at DePauw, people can come together. At Curry Friday you can sit next to new people, discuss ideas, and build relationships with lots of different people. Ive met variety of people here and you see friends you might not have seen for a while. Its also a good vibe on a sometimes stressful Friday! The CSL itself is a beautiful building, I've had bible studies here and more recently I've been interacting with Sami a lot. Now that I live in DU, its a little bit closer than Hogate was last year! Its a nice place to come and get work done and they have nice spaces upstairs for Meditation and Prayer. I think more students could utilize it but to see how packed it was today was really neat."