WellTrack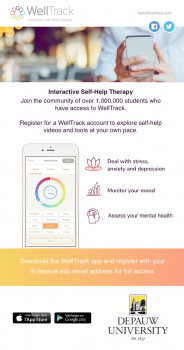 Counseling Services is pleased to announce the rollout of our new online platform - WellTrack - in order to provide you 24-hour access to interactive self-help therapy!
WellTrack is a suite of online tools and courses that help users identify, understand, and address mental health needs in their lives. WellTrack offers assessment and tracking tools; self-help modules, strategies, and activities; and tips and resources to help with depression, anxiety, stress management, and even public speaking!
As a DePauw University student with an active email account, this service is free for your use.