Projects
Faculty Instructional Technology Support (FITS) staff provide support and consulting for a variety of technology projects.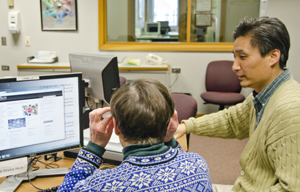 FITS has provided support for many faculty technology projects focusing on teaching and learning over the years. Currently, FITS is working on the following instructional technology projects:
Social Software: Research and testing social / Web 2.0 software as it relates to teaching and learning along with outreach and recruiting
FYS Planning: Resource team participation for each First-Year Seminar in providing instructional technology support for faculty members and students
Video Conferencing: Research and testing Web-based video conferencing options for both academic and administrative uses
Audio Streaming: Creation and cataloging streaming materials in a new streaming platform
175 Anniversary: GIS projects, including re-creating DePauw's campus in Google SketchUp / Google Earth
Blogging: Research and support in blogging for instructional and professional purposes, including using Google Apps Blogger for coursework
Contact FITS at fits@depauw.edu for project brainstorming, planning, and support.
Last Update: 06-Nov-2018