Historical Campus Map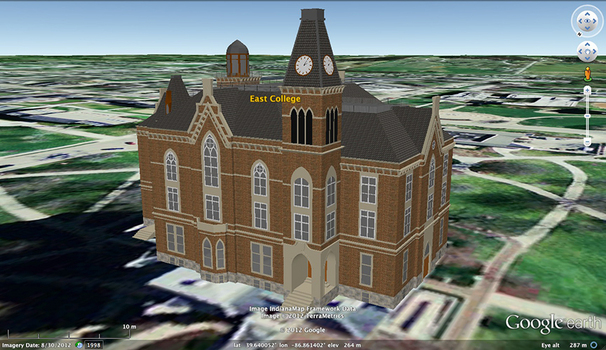 Celebrating 175 Years
As part of DePauw's 175th Anniversary celebration, the DePauw GIS Center in cooperation with the DePauw Archives and with assistance from GIS ITAP Interns Greg Screws ('13) and Chad Byers ('08), began generating a 3D interactive campus map that is viewable using Google™ Earth. This ongoing, "work in progress" includes 3-dimensional models of existing and historic campus buildings with links to descriptive historical information related to the building. Map development will continue throughout the 18-month 175th Anniversary celebration and beyond. The ultimate goal of the project is to provide a historic view of DePauw showing the changes and development of the campus over time.
To view the current version of the Historical Campus Map, download the KMZ file and open with Google™ Earth. If you do not have Google™ Earth installed on your system, you can download it free from earth.google.com.
To get started using the Historical Campus Map, view the Historical Campus Map Usage sheet.

Last update: 17-Jul-2019