Five Distinguished Individuals, Including Three Alumni, to Receive Honorary Doctorates in May
March 16, 2012
Pre-Order Commencement DVD Here
Five distinguished individuals -- David Baker, Amy Goodman, Sara Lennox, Timothy Ubben and Sharon Williams Ubben -- will receive honorary doctoral degrees at DePauw University's 173rd annual commencement. The ceremony will take place on Sunday, May 20, at 10:30 a.m. in Holton Memorial Quadrangle.
As previously announced, James B. Stewart -- Pulitzer Prize-winning journalist, bestselling author, columnist for the New York Times and 1973 graduate of DePauw University -- will deliver the principal address to DePauw's Class of 2012. Stewart will also receive DePauw's Bernard C. Kilgore Medal for Distinguished Lifetime Achievement in Journalism.
David N. Baker Jr., distinguished professor of music and chair of the jazz department at the Indiana University School of Music, will be awarded an honorary Doctor of Music degree. Baker also is conductor and artistic director of the Smithsonian Jazz Masterworks Orchestra. A virtuoso performer on multiple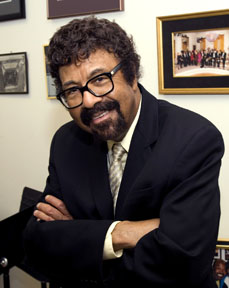 instruments and top in his field in several disciplines, Baker has taught and performed throughout the USA, Canada, Europe, Scandinavia, Australia, New Zealand and Japan.
A 1973 Pulitzer Prize nominee, Baker was nominated for a Grammy Award in 1979 and received an Emmy Award in 2003 for his musical score for the PBS documentary For Gold and Glory. He has been of many honors, including the National Association of Jazz Educators Hall of Fame Award, the James Smithson Medal from the Smithsonian Institution, the American Jazz Masters Award from the National Endowment for the Arts, and in 2007 was honored by the John F. Kennedy Center for the Performing Arts with its Living Jazz Legend Award. (photo of David Baker/Kendall Reeves/Spectrum Studio)
As a composer, David Baker has been commissioned by more than 500 individuals and ensembles, including Josef Gingold, Ruggerio Ricci, and the New York Philharmonic. His compositions total more than 2,000 in number, including jazz and symphonic works, chamber music, and ballet and film scores.
He received both bachelor's and master's degrees in music education from Indiana University.
Amy Goodman, the host and executive producer of Democracy Now!, will receive an honorary Doctor of Letters degree from DePauw. Democracy Now! is a national,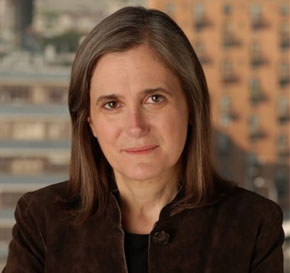 daily, independent, award-winning news program airing on over 900 television and radio stations in North America.
Goodman became the first journalist to receive the Right Livelihood Award, widely known as the 'Alternative Nobel Prize' for "developing an innovative model of truly independent grassroots political journalism that brings to millions of people the alternative voices that are often excluded by the mainstream media." She is also one of the the first recipients, along with Salon.com blogger Glenn Greenwald, of the Park Center for Independent Media's Izzy Award, named for the great muckraking journalist I.F. Stone. The Independent of London called Amy Goodman and Democracy Now! "an inspiration"; PULSE named her one of the 20 Top Global Media Figures of 2009.
Goodman is the author of four New York Times bestsellers, with the latest being Breaking the Sound Barrier. She also writes a weekly column (also produced as an audio podcast) syndicated by King Features, for which she was recognized in 2007 with the James Aronson Award for Social Justice Reporting. She has also received the American Women in Radio and Television Gracie Award; the Paley Center for Media's She's Made It Award; and the George Polk Award, Robert F. Kennedy Prize for International Reporting, and the Alfred I. duPont-Columbia Award, among others. Goodman received the first-ever Communication for Peace Award from the World Association for Christian Communication, and the National Council of Teachers of English presented her with the George Orwell Award for Distinguished Contribution to Honesty and Clarity in Public Language.
Sara Lennox, director of the Social Thought and Political Economy Program (STPEC) and professor of German and Scandinavian studies at University of Massachusetts, Amherst, will receive an honorary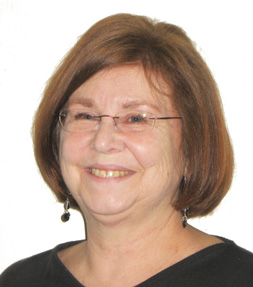 Doctor of Letters degree at May's commencement. A 1965 graduate of DePauw, Dr. Lennox is a pioneer in broadening German Studies to include questions of race and gender and models how liberal arts education provides a foundation for professional distinction and interdisciplinary analysis.
Enrolling at DePauw, Sara (King) Lennox intended to major in chemistry, but German became her first love after she participated in DePauw's study abroad program. Receiving an M.A. in German, she switched to Comparative Literature for her Ph.D. Attracted by opportunities of promoting innovative interdisciplinary education for undergraduates she became director of STPEC. Twenty-five years later, STPEC is a hallmark program in providing rigorous intellectual experiences that prize critical interdisciplinary thinking, multiculturalism, and connecting theory and practice.
Dr. Lennox has received grants from the Humboldt Foundation to study black Germans, and funds from the Volkswagen Foundation on black Europeans. Her scholarship focuses on German-language women's writing, including Cemetery of the Murdered Daughters: Feminism, History and Ingeborg Bachmann (2006); a co-edited collection, Feminist Movements in a Globalizing World (2002); and co-author of The Imperialist Imagination: German Colonialism and Its Legacy (1998). She is currently completing work on an edited volume, Remapping Black Germany: New Perspectives on Afro-German History, Politics, and Culture. She is a past president of the German Studies Association.
Timothy H. and Sharon Williams Ubben are 1958 graduates of DePauw
University, and will be awarded honorary Doctor of Public Service degrees. After graduating, Tim Ubben received his M.B.A. from Northwestern University and served in the U.S. Army while Sharon taught school in Elkhart, Indiana and Tampa, Florida. (photo: Sharon Ubben, Tony Blair, Tim Ubben)
Tim Ubben founded Lincoln Capital Management, a Chicago-based investment firm, in 1962. When he retired in 1999 as chairman, Lincoln had over $50 billion in assets under management. Sharon Ubben owned a small tour company, Hearts Desire, from 1983 to 1990.
Over the years, the Ubbens have been active in the lives of their community and important causes, including their alma mater. Sharon Ubben served as director and president of the University of Chicago Cancer Research Auxiliary Board; as a trustee of the University of Chicago Cancer Research Foundation; and as mentor for the Boys and Girls Club of Collier County, Florida. Tim Ubben has served on the national
board of directors of the Posse Foundation since 2004, founded the Chicago Posse in 1999, and was honored as a "Posse Star" in 2009; as a director of the Boys and Girls Club of Collier County, Florida; and as director of the Philharmonic Center for the Arts in Naples, Florida. (at left: Sharon and Tim Ubben with Posse Foundation founder Debbie Bial)
Among the couple's many gifts to DePauw was a 1986 donation which created the Timothy and Sharon Ubben Lecture Series. Designed to "bring the world to Greencastle," the Ubben Series has brought 90 programs to campus, featuring world leaders such as Bill Clinton, Mikhail Gorbachev, Margaret Thatcher, Shimon Peres, Benazir Bhutto and Tony Blair (to view a complete roster of Ubben Lecturers click here).
Tim Ubben chaired DePauw's Board of Trustees from 1998 to 2001 and continues his service as an advisory trustee; he was a member of the Alumni Association Board from 1983-87 and served as chair from 1985-87; chaired The Campaign for DePauw: Leadership for a New Century, which raised more than $376 million; was a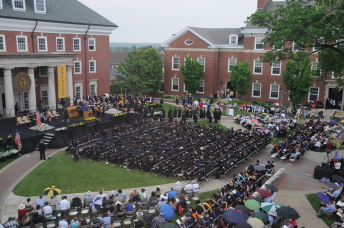 member of the presidential search committee in 2007-08; and was awarded DePauw's Old Gold Goblet for "eminence in life's work and service to alma mater" in 1993. Sharon Ubben served on the Alumni Association Board from 1988-94.
The 2012 commencement ceremony will take place on Sunday, May 20, at 10:30 a.m. in Holton Memorial Quadrangle.
For more information on DePauw's 173rd commencement, click here.
For an eleventh consecutive year, DePauw will produce a DVD of its commencement ceremonies, which will include footage of each graduate receiving their DePauw diploma as well as a range of bonus materials. Learn more in this article, which links to an online order form.