Dr. David Cutler balances a varied career as a speaker, author, consultant, educator, leader, and musician. In all these pursuits, he works to push boundaries while connecting with new audiences.
Known for leading immersive "innovation GAMEs," Cutler's powerful, team-based experiences empower arts, education, and business communities to solve creative challenges while becoming better collaborators. For example, during SAVVY Arts Venture Challenge (6 seasons), a diverse mosaic of artists build entrepreneurial ventures and compete for awards. Two College Music Society Summits (2016, 2019) each challenged 250 North American faculty and administrators to reimagine curricula that emphasizes distinct 21st Century values. Cutler's full-color, illustrated book The GAME of Innovation (McGraw-Hill; April 2022) guides readers to conquer complex challenges, level up their team, and invent the extraordinary.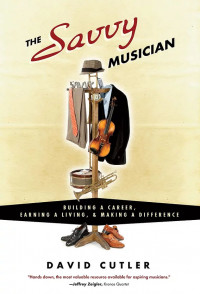 One of the world's leading voices on arts entrepreneurship training, his acclaimed books The Savvy Musician and The Savvy Music Teacher—which provide tools for amplifying income, impact, and innovation—have shaped a generation of artists. He has offered ground-breaking seminars for organizations such as Dutch Classical Music Meeting, New World Symphony Orchestra, Chamber Music America, and music/arts schools around the globe. An award-winning, multi-genre composer, pianist, and Yamaha Master Educator, Cutler has performed extensively across North America, Europe, Asia, and Latin America. A self-proclaimed "weekend traveler," he seamlessly weaves together classical, jazz, popular, folk, and world music. Stretching what it means to be a performer, events regularly involve extreme eclecticism, choreography, humor, interdisciplinary collaboration, costumed ushers, even a marching band of kazoo extraordinaries.
Since becoming Dean of DePauw's School of Music of Summer 2022, he has worked tirelessly to build a collaborative community that celebrates creativity, curiosity, community engagement, artistic flexibility, technological integration, and big ideas. Before joining DePauw, he served as Distinguished Professor of Entrepreneurship and Innovation at the University of South Carolina School of Music, and taught in a groundbreaking musicianship program at Duquesne University.
Cutler studied at University of Miami (BM), Hochschule für Musik in Vienna, Austria, Eastman School of Music (MM), and Indiana University (DM). He is a member of the Liberty Fellowship and Aspen Global Leadership Network, associations aimed at building a more just society.