A native of Buffalo, NY, Teagan Faran is a multidisciplinary musician focused on enacting social change through the arts. Faran has collaborated with the International Contemporary Ensemble, Alarm Will Sound, Palaver Strings, and the Cabrillo Festival Orchestra. Recent recording features include albums with Carlos Simon, La Martino Orquesta Típica, and loadbang. She has had compositions featured at the NYSSMA Conference and the Persis Vehar Competition for Excellence. Also active in the world of tango music, she has performed with Victor Lavallén and the Orquesta Escuela de Emilio Balcarce, as well as at festivals across the United States. ​
As a soloist, Faran has performed with the Buffalo Philharmonic, the Greater Buffalo Youth Orchestra (including a performance in Salsomaggiore Terme, Italy), the Ann Arbor Camerata, the Williamsville East Symphonic Orchestra, and the University of Vermont Symphony.
Administratively, she worked as the AAC's executive director for a season, and held internship positions in the Marketing and Education Departments of the Buffalo Philharmonic, and Education and Concerts/Touring with Jazz at Lincoln Center. She founded Ann Arbor arts collective Red Shoe Company and is a teaching artist with the Kennedy Center, the University Musical Society and the Sphinx Organization. ​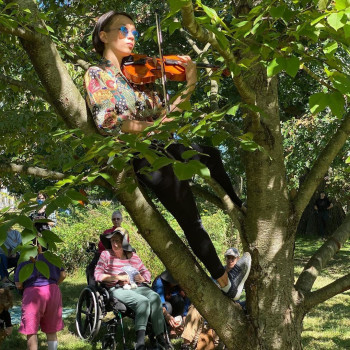 After graduating from the University of Michigan, Faran moved to Buenos Aires on a Fulbright grant. Faran was also a Turn The Spotlight Fellow, receiving their inaugural Hedwig Holbrook Prize. Faran participated in OneBeat, a fellowship in musical diplomacy, DeeDee Bridgewater's Woodshed Network, and recently graduated from the Manhattan School of Music, where she studied Contemporary Performance. Faran teaches at DePauw University and the Sa'Oaxaca International Strings Festival as well as being a certified personal trainer, with a focus on career longevity for performers.
(photo credit: Alarm Will Sound)