Brad Brownell '91 Preps Clemson for Regular Season Finale
March 4, 2012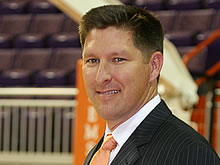 "Brad Brownell earned a history degree from DePauw University. However, he must have taken a theater class or two, because he knows how to build drama," writes Mandrallius Robinson of South Carolina's Greenville News. "Brownell, in his second season as Clemson coach, does not follow conventional plot structure. Rather than climaxing near the midpoint of the season, his teams continue their rising action into the late stages."
The text adds, "Clemson (16-13, 8-7) will close the regular season today at noon against No. 22 Florida State (20-9, 11-4), whom the Tigers defeated by 20 points in their ACC opener on Jan. 7. Clemson has won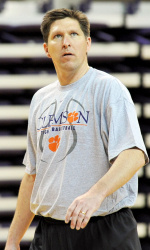 half of its games since, but Brownell could direct the Tigers to their best finale in 45 years. Over 10 seasons as a coach, Brownell has compiled a 73-46 (.613) record in November and December. He has compiled a 73-37 (.664) in February and March."
Access the complete article here.
A 1991 graduate of DePauw University, where he played under coach Royce Waltman, Brownell previously was head coach at Wright State and University of North Carolina - Wilmington. Learn more in this previous story.
Back