"Listless" Congress Only Hurts Itself & the Nation, Opines Lee Hamilton '52
October 19, 2012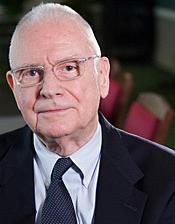 "There is a widespread sense, both in Washington and around the country, that Congress has just ended one of the most listless and unproductive sessions in memory," writes Lee Hamilton, veteran statesman and 1952 graduate of DePauw University, in a newspaper op-ed. "When its members bolted town to go home and campaign, they left a long list of big issues unaddressed -- immigration reform, 'the fiscal cliff,' climate change, entitlement reform, cyber-security. Even worse, they ignored the basics, too: a new farm bill; a Postal Service that desperately needs restructuring; spending bills to keep the government operating beyond next March. So there's no mystery why Congress's standing is so low not just among the public at large, but also among the people who pay close attention to its behavior."

According to Hamilton, who served served 34 years in the U.S. House of Representatives, "when Congress fails to act ... it unwittingly transfers power to the President." The Democrat writes, "There's a certain logic to this. If Congress can't act on urgent matters, then Americans expect the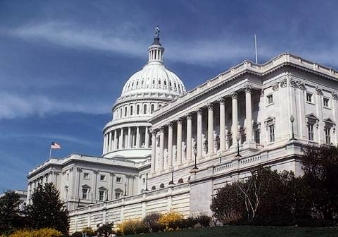 President to do so." But, he cautions, "Executive orders may put needed policies in place, but they are also a unilateral exercise of presidential power that turns away from the constitutional division of power between the president and Congress. By their nature they cannot be as comprehensive and inclusive as legislation passed by the time-honored, traditional legislative process."

Hamilton, who co-chaired the 9/11 Commission and Iraq Study Group, is now director of the Center on Congress at Indiana University. He concludes, "When Congress becomes so tied up by partisanship that it cannot act, it hurts everyone who might have been helped by its failed legislation. But its chief victim is itself, as it foregoes its own constitutionally mandated role in our republic
and hands more power to the President."
You'll find the complete essay at the website of the Herald News of Fall River, Massachusetts.
Lee H. Hamilton has been a frequent visitor to DePauw over the years, having presented commencement addresses in 1971 and 1998. He also was among the presenters at DePauw Discourse in 2006 and 2008 and delivered an Ubben Lecture on March 15, 2011.
Hamilton majored in history as an undergraduate and starred on the Tiger basketball team (and is a member of both the Indiana Basketball Hall of Fame and the DePauw Athletic Hall of Fame).
Back