Retired Congressman Lee Hamilton '52 Continues to Make "American Legislative Process Stronger, Smarter and Better"
May 31, 2013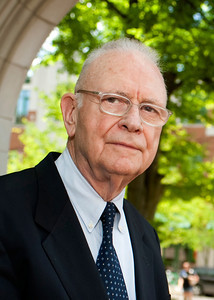 "Much like the new moon on a cloudy night, political icons never really go away. Few still shine so brightly from behind the scenes as Lee Hamilton," begins a story in the News and Tribune of Jeffersonville, Indiana. "Despite no longer being an elected representative, the former 9th District Indiana Congressman continues in his lifelong work toward making the American legislative process stronger, smarter and better. As the director of the Center on Congress at Indiana University, Hamilton strives to illuminate the electorate about government just as much as he hopes to engage every day folks in civic participation."
The article by Amanda Beam traces Hamilton's birth in Florida, to his upbringing in Evansville, Indiana, where he was consumed with the game of basketball as a youth. "Upon graduating from Central High School, Hamilton journeyed to DePauw University where he played basketball for the Tigers."
"Athletics teaches you so many things," Hamilton, a 1952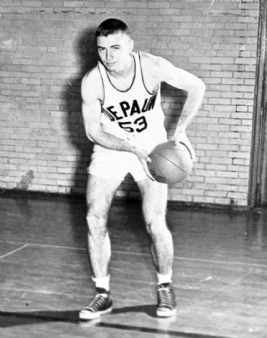 graduate of DePauw and member of the Indiana Basketball Hall of Fame and DePauw Athletic Hall of Fame, tells the newspaper. "It gives you a community of like-minded people. It teaches you competitiveness, fair play and all the rest of it. It's a very valuable thing. I said I focused way too much on basketball and I did, but there are a lot things that would have been a lot worse to focus on, I'm sure of that."
Beam notes that at DePauw, "(Hamilton's) world started to expand beyond shooting hoops. Reminders of the war still persisted and were apparent on campus. Twenty-something soldiers on the GI Bill joined fraternities, offering a unique international perspective to his college life. In 1952, Hamilton completed his degree. But as he walked across the stage at commencement, he said he vividly remembers not having the slightest idea of what he wanted to do. So, like many college graduates nowadays, he decided to travel. In the 50s, going to foreign lands to live and study wasn't nearly as common as it is today. Yet in 1952, he flew to Germany for a year to take part in some course work at Gerta University in Frankfort. At the time, he was the first in his family to ever go abroad."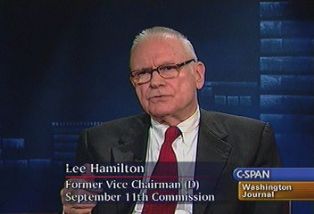 Hamilton says, "Living in a foreign environment, especially in a non-English speaking environment is a terrific experience for a young person to have because you do learn the commonality of humanity. You learn that all of us have the same hopes and desires and dreams and ambitions. You understand that Evansville or Greencastle isn't the center of the universe necessarily."
The newspaper reports, "For 34 years Hamilton remained in Congress becoming one of the most revered representatives of his time. In those decades, he worked with nine different presidents and met countless foreign leaders, eventually becoming known as master negotiator. As chairman of the House Intelligence committee and the House Foreign Affairs committee, his influence extended far beyond the borders of the Hoosier state."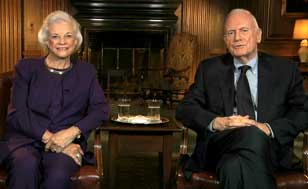 "One of the things in politics is that you meet people of all kinds of levels, probably as much as in any other profession," states Hamilton, who served 34 years in the U.S. House of Representatives and co-chaired the 9/11 Commission and Iraq Study Group. "I got to know a number of prominent leaders both in this country and abroad. They're people. They may be world figures. They may be in the newspaper every day for a couple of years but fundamentally they are not all that different from you and me. You accept people and work with them." (at left: former Supreme Court Justice Sandra Day O'Connor and Hamilton)
You'll find the complete text at the News and Tribune's website.
Recently appointed a Professor of Practice at Indiana University's School of Public and Environmental Affairs (SPEA), Lee H. Hamilton is the author of Strengthening Congress; How Congress Works and Why You Should Care and A Creative Tension: The Foreign Policy Roles of the President and Congress.
Hamilton majored in history as an undergraduate. He has been a frequent visitor to DePauw over the years, and delivered an Ubben Lecture on March 15, 2011.
Back