Product Safety Commissioner Bob Adler Visits Nov. 4 & 5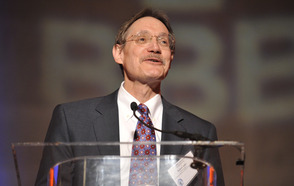 October 28, 2013
Robert "Bob" S. Adler, vice chairman of the U. S. Consumer Product Safety Commission (CPSC), visits DePauw University on Monday, Nov. 4, for a Horizon Lecture hosted by DePauw's Department of Political Science, Management Fellows Program and Media Fellows Program. In a lecture titled "From Professor to Regulator: Trials and Tribulations of Public Service," Adler will share a career split between academia and the public sector.
Commissioner Adler will speak from 8-9:30 p.m. in the Memorial Student Union Building ballroom. The event is free and open to the public.
Created in 1972, the CPSC sets safety regulations for thousands of consumer products, such as cribs, car seats and power tools. In testimony before Congress in 2012, Adler estimated that CPSC policies have led to a 30 percent drop in deaths and injuries caused by consumer products during the last 30 years, including a 92 percent drop in childhood poisoning and 92 percent drop in crib deaths.
Before being appointed to the CPSC by President Obama in 2009, Adler was a law and business professor at University of North Carolina and served as legal adviser to the Commission. His academic research focused on product safety, liability and regulation, and medical malpractice and negotiation. Adler's 2000 article, "When David Meets Goliath: Dealing with Power Differentials in Negotiation," co-authored with Elliot Silverstein, won the best article prize that year from the CPR Institute for Dispute Resolution.
Professor of Political Science Bruce Stinebrickner, who met Adler while on sabbatical in Washington, D.C., says that Adler's visit brings something different to DePauw.
"Most visitors to DePauw who speak about politics or governing are academics or journalists who are essentially observers," Stinebrickner says. "Some visitors are actual politicians or government officials with experience in governing. Bob Adler can speak from both of these perspectives: a long career in both government and the academic world.
"Adler will bring information and insights about the inner workings of an important independent regulatory commission in Washington. He will also address the considerations that go into regulating the more than 15,000 consumer products over which the CPSC has jurisdiction and, more generally, the intersection of business, politics, governing and ethics in American national government. Finally, he has just witnessed from the inside the first government shutdown in nearly 20 years and may have some insights to share about that experience."
In addition to his lecture, Commissioner Adler will join Visiting Associate Professor of Philosophy Jeffery Smith's Ethics & Business course on Tuesday, Nov. 5 from 2:20-3:50 p.m. in Peeler Auditorium. The class will be open to all who wish to attend.
Read more about Adler at his CPSC biography page.
Back