Senior Matt Reda "Has a Dream": St. Louis Post-Dispatch
June 11, 2013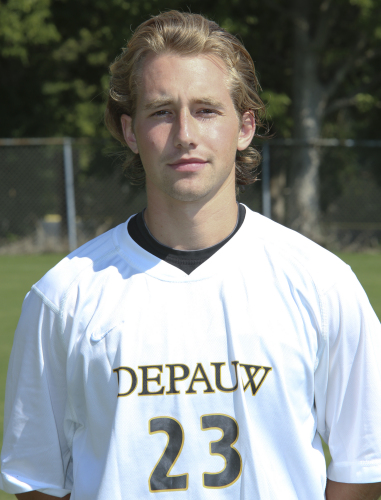 "Matt Reda has a dream," begins an article in the St. Louis Post-Dispatch. "And he also has a plan." The newspaper reports that Reda, a rising senior at DePauw University, "has managed to combine academics and his love of soccer into a series of once-in-a-lifetime adventures."
Reda says, "For as long as I can remember, I've wanted to play professional soccer. When I was little, I pretended I was David Beckham. Getting a chance to play professionally is something I'm very passionate about. I have no idea how things will work out, but I'm determined to take it as far as possible."
His college experience began at the University of San Francisco, but he quickly realized that he'd likely have to wait until his senior year to play for the Division I soccer program. He transferred to DePauw, where the Tigers have "won back-to-back league titles and reached the second round of the NCAA tournament last fall," writes Joe Lyons. "Reda's passion for soccer was re-ignited recently during a semester abroad. Studying in Segovia, Spain, he was able to train regularly there with La Gimnastica Segoviana, a third-division squad."
"The overall experience was incredible," says Reda, who is a double major in history and Spanish. "My host mom didn't speak any English so if I wanted to communicate, I had to speak Spanish. The first week, I'll admit, was pretty rough but it got much easier from there."
The story points out, "After graduating next spring, Reda is looking to join the Richmond International Academic and Soccer Academy in Yorkshire England. There, he also plans to work toward his master's in international business at Leeds Metropolitan University. 'That's the Plan B to keep my parents happy, knowing that I'm not focusing everything on the soccer dream alone,' he said ... 'You train and compete against academy teams from other pro clubs in England. It's an opportunity to play and develop your game while being exposed to scouts from all over the world. I realize it's a long shot, but it's also a chance to take a shot at something I've wanted for as long as I can remember.' "
You'll find the complete text -- "Soccer dreams lead to world travels" -- at the Post-Dispatch's website.
Visit the men's soccer team online.
Back