DePauw-Led CTEP Works to "Bridge the Digital Divide"
September 4, 2013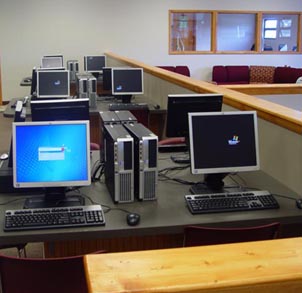 "The goal of our program is to bridge the digital divide between the university and Putnam County," says Megan Carter, DePauw University senior and managing intern of the Community Technology Enhancement Program (CTEP). An article in Greencastle's Banner-Graphic describes how the DePauw-led program collects old computers, refurbishes them, and distributes them to people in need in the surrounding community.
"We are trying to focus on people in our local community because that's very important to us," Carter tells the newspaper.
Launched ten years ago by Bob Hershberger, professor of modern languages (Spanish), CTEP also brings DePauw students together with local citizens for computer training. "I currently work with a computer science professor at DePauw, Doug Harms, and we are trying to set up workshops for the community
for basic understanding of digital literacy," Carter says. She adds, "We have a lot of computers ready to go, but we need people to donate their old computers. Not just computers, but monitors, keyboards, mice, printers or power cords. We need anything."
Access the full story here.
For more information about CTEP, call (765) 658-5920 or click here.
Also available is this previous story.
Back