Buongiorno!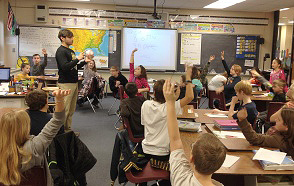 March 24, 2014
For first-year student Grace E. Pittner, life in college is different, but familiar. She studied Spanish for a few years in high school but was looking for something new at DePauw when she switched to Italian, another Romance language. Pittner had also volunteered as a youth swimming instructor and wanted to continue her work with children. Now she combines her language and volunteer interests as a volunteer Italian teacher at New Pathways Preschool.
"The kids I teach are very energetic," Pittner says. "It can be a challenge because their attention span is so short, but they're just so excited whenever I come. I love it when it clicks with them, too – when they say something in Italian without anybody asking them to. It's just very rewarding."
At nearby Deer Meadow Primary School, Carolyn McKee's kindergarten class gets a weekly visit from freshmen Claire A. Halffield and Tiernan B. Shank – both, like Pittner, members of DePauw's Italian Enrichment Program.
"My kindergarten kiddos look forward to having Claire and Tiernan come every Monday," McKee says. "They really enjoy the activities the girls bring and are learning many Italian words. I'm happy they come to teach Italian, and a bonus for us is they stay to help with learning stations in our room."
In 2006, looking to provide Italian practice outside the classroom, Associate Professor of Modern Languages Francesca Seaman sent her students to local elementary schools to share Italian culture. The children were enthusiastic, and several teachers asked for more. At first, only Seaman and a few students were involved with the enrichment classes, but the program quickly grew. This spring 16 DePauw students are teaching introductory Italian to nearly 250 local school children.
"The program is a great opportunity for DePauw students to engage with the language," Seaman says. "As they plan a lesson, they rethink their own skills in Italian and practice speaking the language while having to be original and creative."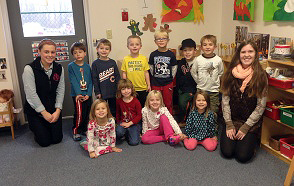 The Italian Enrichment Program was formally recognized recently by DePauw's Hubbard Center for Student Engagement, necessitating the creation of a student coordinator position, now filled by Pittner (left, on left), and leading to a small budget for the program to use toward classroom activities.
Seaman says student volunteers also receive support from the modern languages department in constructing lesson plans and reflecting on their teaching experiences.
"My favorite part about working with the kids is seeing their desire to learn," says freshman Samuel L. Caravana, a volunteer in a 4th-grade classroom at Tzouanakis Intermediate School. "I also really enjoy seeing them make connections. I remember one student realizing that green was the same word in both Italian and Spanish. Seeing his face light up with excitement was really cool."
For DePauw students just beginning Italian, the low-stakes, high-energy environment has provided a fun way to learn through teaching. Freshman Lauren K. Towne, a preschool volunteer, was amazed by how interested five-year-olds are in learning a foreign language. Though the lessons are basic, she admits she still gets to practice her own language skills through rounds of a "Head, Shoulders, Knees and Toes."
"I learned those body parts fairly quickly," Towne says.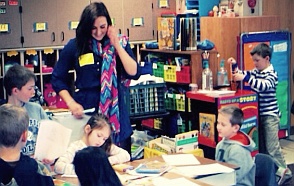 (Right: Helen Reese Edwards '16 teaches first graders.)
With the program flourishing, Seaman plans to share its success story at national language conferences to inspire other Italian teachers to offer similar service-learning programs in their communities. As for her students, she hopes their volunteer work strengthens their applications for programs such as Teach for America and the Fulbright U.S. Student Program, and that they leave DePauw more excited to learn than when they arrived.
"I hope this sort of teaching opportunity gives our students a chance to look at their learning experience at DePauw from a different perspective, one that will make them stronger learners," Seaman says.
Back