Association for Practical and Professional Ethics Selects Prindle Institute as New Home
February 28, 2017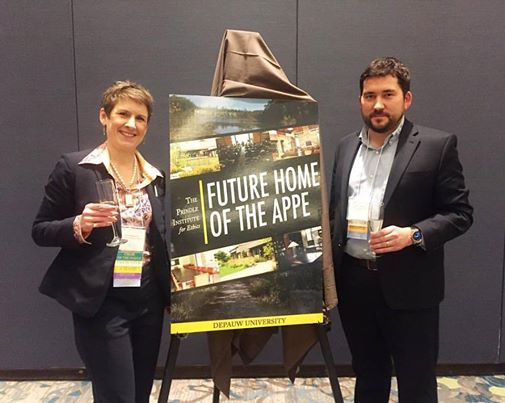 DePauw University's Prindle Institute for Ethics will be the new institutional home for the Association for Practical and Professional Ethics (APPE), the largest practical and professional ethics association in the nation with over 100 institutional members and 858 individual members.
APPE is an international, multidisciplinary membership association of professionals focused on the practical application of ethics in the classroom, the workplace, government, and local communities. Founded in 1991, the association is a national leader in advancing scholarship, stimulating new research in practical ethics, and promoting innovative teaching methods.

Sarah Pfatteicher, chair of the APPE executive board, made the announcement at the opening reception of the APPE annual meeting in Dallas, Texas this month. During a champagne toast, Pffateicher announced that the APPE has reached an agreement in principle to move their headquarters to the Prindle Institute at DePauw University effective July 1.

"I'm thrilled about this collaborative partnership," said Andrew Cullison, director of the Prindle Institute and 2001 graduate of DePauw. "Having the APPE headquartered at Prindle is going to enrich all of our core program areas. Our online media, campus events, education and research initiatives, and community engagement projects will all be strengthened by APPE's presence."
Pfatteicher says the APPE board "was particularly drawn to Andy's infectious enthusiasm and his forward-thinking vision for our partnership. The array of social media activities he has initiated at Prindle are excellent fits for an association seeking to attract a new generation of scholars as we enter our second quarter century as an association."
APPE began the search for a new institutional home last year when it announced an open call for proposals from new potential host institutions. Nine proposals were submitted from institutions around the country. The APPE board narrowed it down to two finalists for campus visits.
"In addition to a strong financial partnership, we were looking for close alignment of mission, a record of engagement with APPE, evidence of ongoing commitment by campus leaders, and an energetic and visionary director with whom to partner." Pfatteicher said, "At DePauw we found all of those things in spades."

"Our missions are so closely aligned they are practically identical and we share similar visions for how to execute those missions," Cullison said, " This collaborative partnership benefits both of us equally and we're going to help each other get to the next level."
The Association organizes an annual international conference with leading ethics educators, researchers, and professionals in practical ethics. The conference is a global marketplace for exchanging state-of-the-art practices in teaching ethics to undergraduates,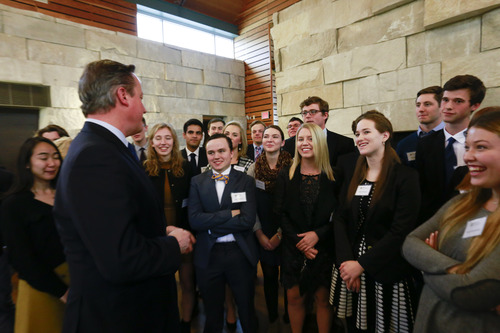 graduates, professionals, and executives. Its location is selected with an eye to ensuring exposure and visibility in key cities throughout the United States.
APPE national office staff will begin moving into the Prindle Institute in late June, and some transition work is already underway. (at left: former British Prime Minister David Cameron talks with DePauw students at the Prindle Institute)
"It's going to be wonderful to have that team, with that kind of energy and vision right down the hall," Cullison said. "I'm really excited to see what the future holds for Prindle, APPE, and the entire field of practical and professional ethics."
The Prindle Institute for Ethics -- where students and faculty engage in critical and constructive reflection about right and wrong, justice and injustice, and good and evil -- recently received a $30,000 grant from the National Endowment for Humanities to conduct a comprehensive study as part of a new "Value of Ethics and Moral Reasoning in Business" research project. Read more here.
Back