Op-Ed Co-Authored by Kartik Amarnath '13 Published in UK's Guardian
May 22, 2019
"New York prides itself on being a green city," begins an op-ed published in the United Kingdom's Guardian which is co-authored by Kartik Amarnath, a 2013 graduate of DePauw University. "But NYC could be doing a lot more to go green -- and fight extreme economic inequality at the same time," state Amarnath, the former energy planner for the New York City Environmental Justice Alliance, and collaborators Ashley Dawson and Shay O'Reilly.
"Mayor Bill de Blasio just announced an energy plan that would potentially move New York City a big step in the wrong direction. In a little-discussed provision of the city's latest OneNYC sustainability plan, Mayor de Blasio commits to powering 100% of city government operations with 'clean' hydroelectric power from Canadian state company Hydro-Québec. According to the mayor, this would help the city move away from coal and gas, in the process cutting emissions by 40% over the next decade."
The authors argue that the project "would lock NYC into dependence on Canadian hydropower long-term, while diminishing the ability for local offshore wind, solar and other renewable industries to thrive. Furthermore, there is nothing 'clean'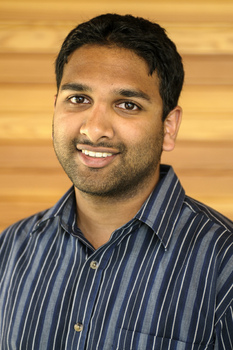 about hydropower."
Access the column at the newspaper's website.
As a DePauw senior, K. Kartik Amarnath was awarded a Fulbright U.S. Student scholarship for his project, "Development and Disability: Spatial Access and Agency for Kuala Lumpur's Blind Population." A biology major and anthropology and philosophy minor, Amarnath used the grant to conduct research and study in Malaysia's capital during the 2013-14 academic year. He went on to earn a master's in design and urban ecologies from the New School.
Back