Astronaut Joe Allen '59 to Speak at Miami U Next Week
August 31, 2012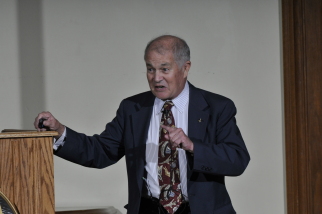 "Space shuttle astronaut Joe Allen will share his experiences from taking part in two space shuttle missions and serving on the backup crew for Apollo 15" at a speech next Tuesday, September 4, at Miami University in Ohio, reports the Hamilton Journal News.
"Allen, originally from Crawfordsville, Ind., earned a bachelor's degree from DePauw University and a master's degree and doctorate from Yale University," the newspaper points out. "He was a nuclear physics research associate at the University of Washington when NASA selected him as one of 11 scientist-astronauts in 1967. He flew on two Space Shuttle missions, both milestone flights: STS-5, the first operational mission on Columbia in 1982, and STS-51A, the first satellite salvage mission on Discovery in 1982. Allen left NASA in 1985. He served as chief executive officer of Space Industries International and later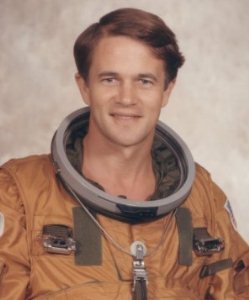 was chairman of Veridian Corp. until he retired in 2004. Allen is an active member of the Astronaut Scholarship Foundation (ASF)."
Learn more at the newspaper's website.
A 1959 graduate of DePauw, Joseph P. Allen IV is also a member of the U.S. Astronaut Hall of Fame. He returned to his alma mater on May 10, to offer "Reflections from the Edge of Earth." Dr. Allen's speech is part of DePauw's 175th Anniversary Distinguished Alumni Lecture Series. He also addressed his 50th reunion at DePauw in June 2009; that speech is embedded below.
Also available is this previous story.
Back